Check Out This Life-Sized Lego Ford F-150 Lightning That Took 1600 Hours To Put Together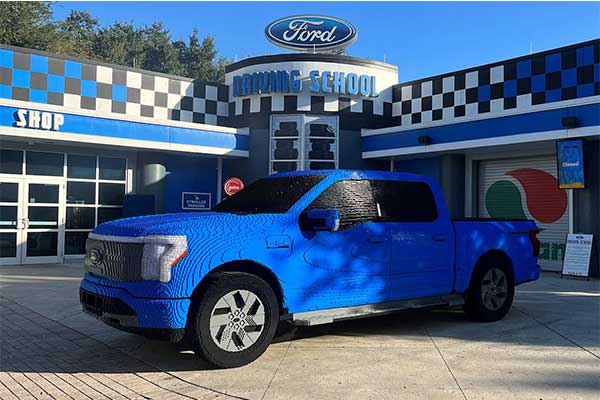 Lego and Ford have long enjoyed a strong relationship, offering kids of all ages brick-like Blue Oval builds and the capability to do so from scratch, featuring models like the Ford GT, the 2021 Ford Bronco SUV, Ford Mustang Shelby GT500, and the 2022 Ford Maverick compact pickup. Now, the Legoland resort in Florida has added something a bit larger, as well as a bit cooler, arguably – a full-scale 2022 Ford F-150 Lightning Lego pickup that's made entirely from those square bricks that we love to play with and hate to step on.
While some life-sized Lego cars can actually be driven, the Ford pickup truck remains a static display. It does, however, boast a working head- and taillights, and a full-sized truck bed – we wouldn't put anything too heavy in the back, though. In all, this F-150 Lightning took 320,740 bricks, the help of many Legoland workers, and a stunning 1,600 hours to put together. With wheels made of Lego, the truck doesn't appear to roll on its own but can be moved on its frame.
According to the Legoland Florida Resort, its newest attraction is the first and largest electric vehicle model currently on display at any Legoland Park in North America. To recall, a life-size Ferrari F40 arrived in Legoland California in May, using over 358,000 bricks, complete with its own Lego V8 engine. Despite the more compact size, the classic Italian required 358,000 bricks to produce – nearly 38,000 more than the bigger Ford.