Manhart Showcases Tuned 2023 BMW M3 Touring (MH3 650) With Over 600Hp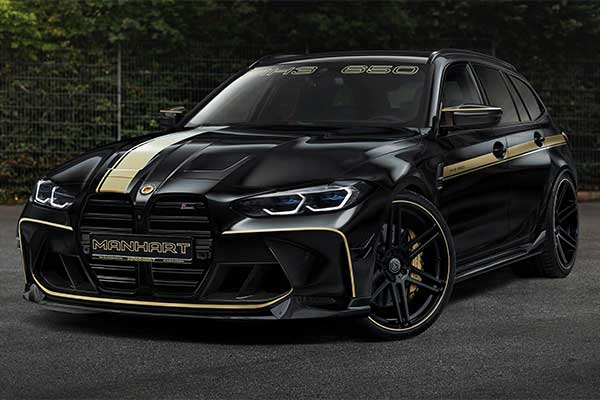 The paint is barely dry on the M3 Touring and Manhart is eager to announce an aftermarket program for BMW's long-awaited super wagon. The new model is previewed by a set of renderings featuring the classic gold-on-black decal set with Manhart badging. The carbon package includes a front splitter, bumper-mounted aero flicks, side skirt extensions, a rear spoiler, and a new diffuser.
Dubbed the MH3 650 Touring, the package brings upgrades under the hood, where the 3.0-liter twin-turbo engine now generates 650 horsepower (478 kilowatts) and 590 pound-feet (800 Newton-meters) of torque. For comparison, the stock M3 Touring is available only in Competition trim with 503 hp (375 kW), channeled to all four wheels via BMW's xDrive AWD system and an eight-speed M Steptronic transmission.
The added punch should make it even quicker than it already is. As a refresher, BMW quotes a 0 to 62 mph (100 km/h) in only 3.6 seconds and a 0 to 124 mph (200 km/h) in 12.9 seconds. The 80 to 120 km/h (50 to 75 mph ) sprint in fourth gear is particularly impressive as the M3 Touring needs only 2.7 seconds or 3.5 seconds if you use the fifth gear. The MH3 650 Touring rides on the 21-inch Manhart Concave One alloy wheels finished in silk matte black or in any desired color.
Matching the healthy power increase is a new exhaust system with valve control. Alternatively, customers can also go for Manhart downpipes without catalytic converters but this might not be legal in your country. There are also versions with 300 cells GESI catalytic converters and OPF-delete pipes.
Manhart will be happy to turn any M3 Touring into an MH3 650, calling all interested parties to contact the tuner via the official website for pricing and availability.