Manhart Performance Gives The 2023 Range Rover A Tune (Photos)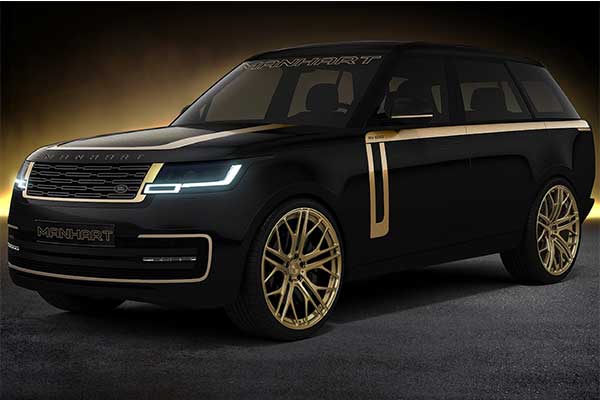 Land Rover's monolithic new flagship is most certainly imposing as is, however that sort of thing has never stopped Manhart Performance. Their latest creation is the RV 650 which is Manhart's take on none other than the latest iteration of an iconic nameplate, the Range Rover Vogue. Their characteristic black exterior look with golden accents in combination with Manhart's Forged Line wheels in each corner finished in gold certainly look the part.
For the RV 650, a newly upholstered cabin with leather and Alcantara in black and gold ties the interior to the exterior, reminding customers of the fact that this is no ordinary Range Rover. Certain elements of the clean and modern interior have been updated with a smattering of gold accents here and there bringing the interior of the SUV to life.
As standard, the eight-cylinder engine punches out 530 horsepower, but Manhart is eager to unlock quite a lot of extra punch. The German tuner is happy to announce it's taking the N63 to a healthy 650 hp. There's no word about torque, but it too should see a significant bump over the stock 2023 Range Rover with its 750 Nm (551 lb-ft).
The Manhart-fettled Range Rover clearly isn't aimed at shrinking violets.  The Vogue RV 650 is exclusive to Middle East customers, where the Range Rover enjoys great popularity. The tuner makes no mention of pricing but, with prices as high as $211,200 for a standard, long-wheelbase SV, we can assume the RV 650 would easily be in excess of $300,000.