Check Out This One Off Dodge Durango Power Wagon (Photos)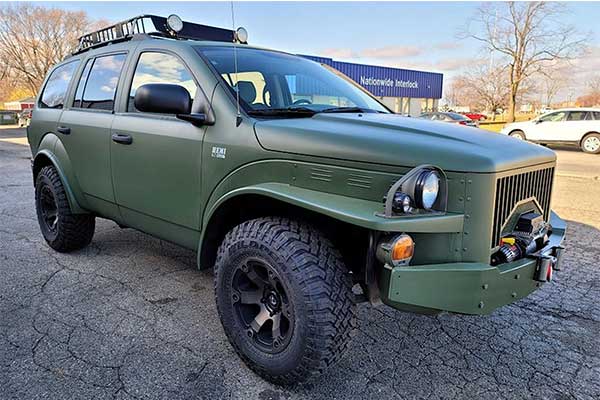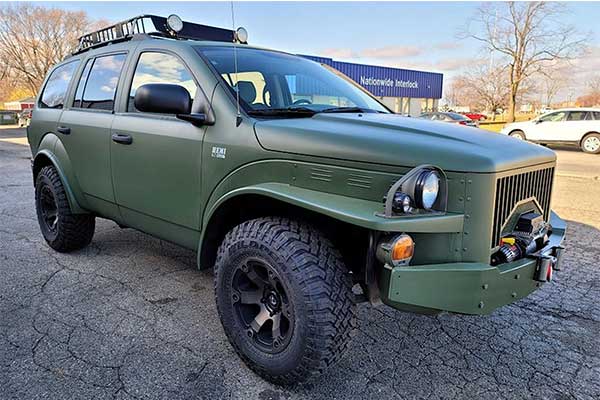 This is not your ordinary Dodge Durango but a Power Wagon as the Durango was transformed to be the ultimate machine to convey families. At 1st the Power Wagon looks like a typical military vehicle but underneath is a 2006 Dodge Durango SUV. This model has been prepared for the outdoor life ready for the adventure of the wild. Its customization includes vertical-slat grille, separately-housed circular headlamps, side vents, and flat, hook-shaped front fenders are all in place. The big question is whether all this fit the SUV? Well yes, it does and the fit and finish are beautifully done.
The builder also managed to fit a 3,500-pound ATV winch smack dab in the middle of the rear bumper (a proper 12,000-pound winch lives upfront), which is a nice touch, and the whole thing is shod in matte olive drab green. The rear hatch, with its raised "POWER WAGON" lettering, is fitted with a mounted jerrycan.
With all that toughness on the outside, the inside remains modest with everything remaining the same. From the cloth seats (base trim) which are 8 in number and the simple Formica finish on the dash doesn't catch the eye much. Furthermore, the engine of the Power Wagon uses the  335hp 5.7-liter Hemi V8 and four-wheel drive. This model comes with a 4-speed automatic transmission.