Chevrolet Launches Entry-Level 2024 Equinox EV With 300 Miles Max Range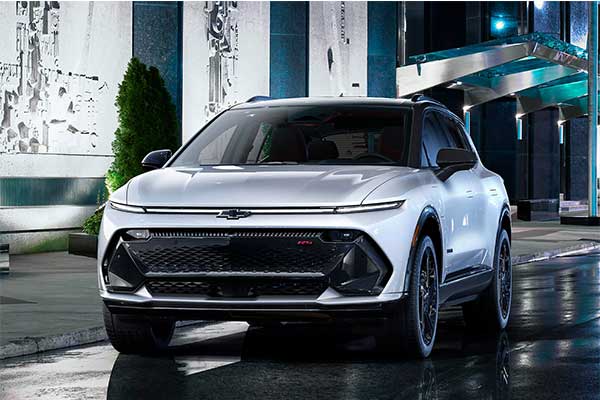 Following the Silverado EV and Blazer EV, the 2024 Chevrolet Equinox EV continues to fill out the automaker's ranks with all-electric alternatives. Not only that but this new EV SUV is also priced reasonable as it starts just shy of $30,000 (about 12 million Naira before shipping).
That price target is for a base 1LT grade with front-wheel drive and an estimated 250 miles of range. An available battery upgrade will lift the range to 300 miles with front-wheel drive and 280 miles with available all-wheel drive. Front-wheel-drive models will have 210 hp and 242 lb-ft of torque, while all-wheel-drive models will have 290 hp and 346 lb-ft. One-pedal driving will also be standard regardless of the powertrain. Further up the model lineup, Chevy will offer better-equipped 2LT, 3LT, 2RS, and 3RS grades. Chevy said it will initially offer only a limited-edition model in the 2RS grade. Timing for the other grades, including the base 1LT, will be announced closer to next year's market launch.
The Equinox EV is built on a similar platform as the Chevrolet Blazer EV and Cadillac Lyriq, though the Equinox EV is smaller than those vehicles. Versus the gas-powered Equinox, the EV has a longer wheelbase and overall length. Its wheels are pushed close to the front and rear bumpers, creating shorter overhangs that generally make for generous interior space and more attractive exteriors.
On the interior, the 1LT will come with a big 11-inch infotainment touchscreen with Apple CarPlay and Android Auto as standard equipment. Step up to higher trims, and you get an even bigger 17-inch infotainment system. No matter the trim, Chevy includes hard buttons for climate controls and a fully digital instrument cluster. Optional tech extras include niceties like a head-up display, a digital rearview camera mirror and a 360-degree camera. Plus, Chevy is making Super Cruise optional, so you can get GM's awesome hands-free driver assistance system.
As for charging, most Equinox EV models have an 11.5-kW Level 2 onboard charger, which Chevy estimates can add 34 miles of range per hour. The priciest RS trim level offers a 19.2-kW charger, increasing Chevy's estimate to 51 miles of range per hour. All Equinox EVs support 150-kW DC fast charging.
The Equinox EV goes on sale in the fall of 2023.