Commercial Bus Drivers' Non-compliance With COVID-19 Guidelines Worries LASTMA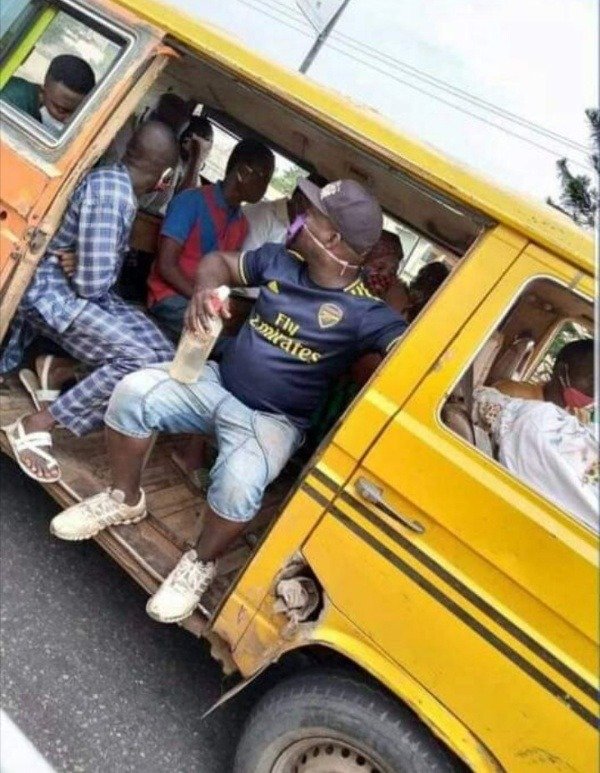 Commercial bus drivers' non-compliance with COVID-19 guidelines worries LASTMA.
LASTMA said only Keke Marwa appears to be supportive. The tricycle operators now carries the maximum of two passengers allowed.
The Lagos State Traffic Management Authority LASTMA is worried over non-compliance of guidelines on physical distancing aimed at curbing the spread of COVID-19 by privately-owned public bus operators.
General Manager, LASTMA,
Mr Olajide Oduyoye
, while speaking with News Agency of Nigeria; said it's only Keke Marwa operators that are obeying the government's social distancing directive in public transport to curb the virus' spread.
Oduyoye also revealed that some commuters were found to be equally defending drivers who carried the required number of passengers.
LASTMA also observed that some commercial motorcyclists are also operating despite the ban on their operations across the state.
"The awareness has increased but the non-compliance by privately owned public bus service operators is worrying.
"Okada operators are also being sneaky inspite of a total ban on their activities. We have confirmed reports of operations in areas like Egbeda, Apapa, and Itire axis.
"So far, it is the Keke Marwa operators who appear to be supportive and carrying the maximum of two passengers allowed. We pray they keep it up,"
Oduyoye said that the enforcement agencies are aware of the disobedience to law and order.
He said that the major concern was the willingness of commuters to violate the required distance at the bus stops and inside the buses.
According to him, commuters seem either not to care for themselves or are unaware of the seriousness of the virus.
"It's amazing that instead of fighting to maintain a distance from persons they know nothing about; they are ready to fight and argue that danfo should be allowed to carry three passengers per row.
"This is in addition to the already tight row arrangement existing in these buses, which makes one wonder how full-grown persons manage to fit their legs into these buses.
"The distance between passengers seated between one row and the front is less than 12 inches.
"If any of the seated passengers behind without face masks coughs, there's nowhere to run. It is so worrying,"
The LASTMA boss urged transport operators and commuters to cooperate with the government for everyone to stay alive.
He added that the authority would not relent in its enforcement drive, to curb the spread of the virus in the country.