Container Ship Blocking Suez Canal Is Free After 6 Days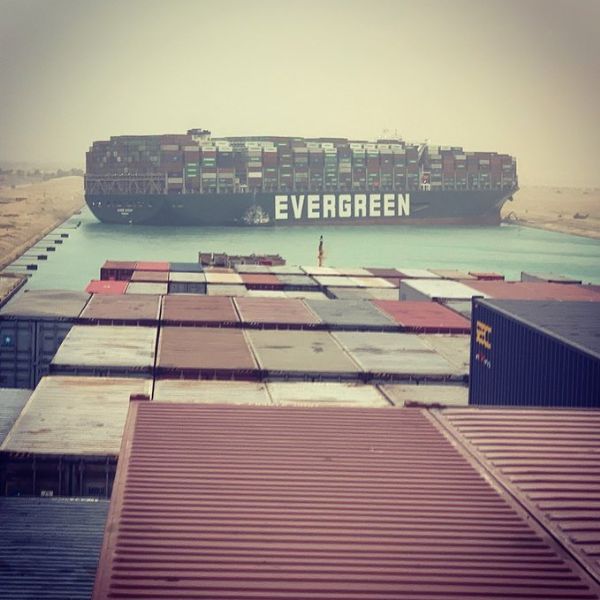 The massive container ship blocking the Suez Canal was straightened and partially refloated early today. This is happening nearly a week after it ran aground on the vital shipping route. It thus brought billions of dollars' worth of trade to a standstill.
Egyptian canal authorities said the 220,000-ton Ever Given had been turned '80 per cent in the right direction'. This happened after the stern of the vessel was moved by 335ft. It also helped when rescue teams vacuumed up sand from the canal bank.
Footage showed tugboats blaring their horns. A captain gave a thumbs-up as rescuers celebrated their breakthrough after taking advantage of a high tide brought on by the supermoon to partially refloat the ship. Container Ship 
But it remained unclear how long it would take to fully re-open the canal. There, hundreds of ships are waiting in a massive traffic jam. It translated to about £6.5billion of global trade being held up each day.
Marine services provider Inchcape said the 1,300ft-long ship had been successfully re-floated. It was refloated at 4.30am local time. It was being secured, six days after the bow got jammed in the Egyptian shore during high winds.
Satellite data from tracking websites early this morning showed the straightened container ship surrounded by the squadron of tugboats with its stern no longer blocking the entire shipping route. Container Ship 
Egyptian lieutenant-general Osama Rabei said salvage crews would resume their attempts to pull the Panama-flagged ship into the middle of the waterway once high tide returns later on Monday.
More than 300 vessels, carrying everything from crude oil to cattle, are still waiting to pass through the canal, while dozens more are taking the alternative route around the Cape of Good Hope at Africa's southern tip – adding some two weeks and thousands of miles to journeys and threatening delivery delays. Container Ship 
Some 19,000 vessels passed through the canal last year, an average of 52 per day, according to official figures. About 10 per cent of world trade flows through the canal.
The world's biggest shipping company, Denmark's A.P. Moller-Maersk, warned its customers that it would take anywhere from three to six days to clear the backlog of vessels at the canal.
The obstruction could affect oil and gas shipments to Europe from the Middle East. Already, Syria has begun rationing the distribution of fuel in the war-torn country amid concerns of delays of shipments arriving. Container Ship