Fatima Bio, Sierra Leone's First Lady Arrives Event Behind The Wheels Of A Toyota Land Cruiser (PHOTOS/VIDEO)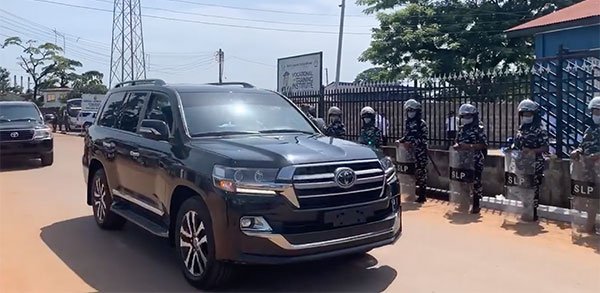 The current first lady of Sierra Leone, Fatima Bio has been spotted in a Toyota Land Cruiser as she visited the wives of the policemen in the country. The meeting focused on appreciating the women for their supports towards their husbands.
During the visit, the wife of the President reiterated the commitment of the government to the well being of the association. The video saw the first lady alighted from behind the wheels of the Toyota Land Cruiser.
Meanwhile, the First Lady H.E. Fatima Bio pledged Le 150 million to the Sierra Leone Police Wives' Association in the course of the meeting.
The meeting took place at Sierra Leone Police Wives Association Admin Complex
Video Of Fatima Bio Arriving At The
Event
The president of the Sierra Leone Police Wives Association, Mrs Hawa Sovula appreciated the First Lady. She said the First Lady was very instrumental in constructing Sierra Leone Police Wives Association Vocational and Training Institute at Kingtom Police Barracks in Freetown.
Mrs Sovula further advocated for the provision of boreholes and hand pumps for all police barracks in Sierra Leone. This would serve as a preventive measure of sexual and gender-based violence. She committed her institution's support to the First Lady's 'Hands off our girls' initiative.
The Toyota Land Cruiser is a series of four-wheel-drive vehicles. It is produced by the Japanese automobile manufacturer Toyota. It is Toyota's longest-running series of models and the second-longest SUV in production behind the Chevrolet Suburban.
The Toyota Land-Cruiser used by Fatima Bio offers uncompromised luxury and relentless performance.
It is a fusion of off-road mastery with on-road elegance. The Toyota Land Cruiser also offers a premium driving experience for drivers and passengers who demand leading sophistication. It is also a clear choice for drivers and passengers who require bullet-proof transportation for up to 7 passengers.
The Land-Cruiser features a spacious interior with a list of premium optional upgrades. All these, coupled with a beastly 381HP 5.7 liter engine.