Fiat Officially Start Production Of The 600e Crossover SUV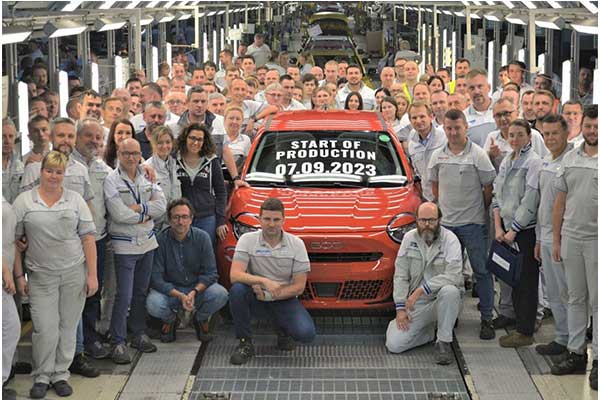 This July, Stellantis brand FIAT took the wraps off of its latest creation, the 600e, following a pre-reveal of sorts the month before. The FIAT 600e is a 4.17 m long crossover SUV-ish vehicle that boasts 400 km of combined WLTP range from a 54 kWh battery that charges at up to 100 kW.
Today, Stellantis announced that production of the FIAT 600e officially started at the group's plant in Tychy, Poland, on September 7 (last Thursday). As is customary on such occasions, a picture was taken to immortalize the event and showcase the first ever mass-produced FIAT 600e, which you can see in the middle of the workers below.
It's a top-of-the-range La Prima version in an orange colorway fittingly named Sun of Italy. FIAT calls the 600e its return to the B segment, with one car that "takes the best of the B and B-SUV worlds to offer a beautiful, joyful, and pampered driving experience". It's touted as an ideal solution for city lovers, with its 600 km range in the urban cycle.
The FIAT 600e deliveries will start in Italy later this month, with the rest of Europe following shortly afterward.