Ford F-150 Lightining Pickup Truck Joins The Police Force In New Pro SSV Version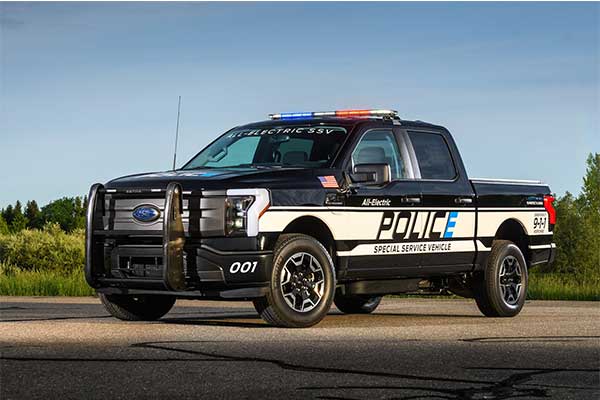 Ford's all-electric F-150 Lightning pickup is getting already getting a police package makeover. Dubbed the Pro SSV, the law-enforcement Lightning gets a police-spec interior that includes mounting options for up-fitting, seat coverings that can withstand exposure to bodily fluids and, of course, an all-electric powertrain that offers low-maintenance operation for interested municipalities.
Rather than handle pursuit duties, where the range is essential, the F-150 Lightning Pro SSV has been designed to handle other common police actions, according to Ford. Actions mentioned by the automaker include assisting at an accident or crime scene or providing departments with towing capabilities.
The standard-range battery version produces 452 horsepower and 775 lb-ft of torque with a 7,700-pound towing capacity and 2,235-pound payload capacity. Stepping up to the extended-range battery improves the output to 580 hp with the same amount of torque, and ups the towing capacity to 10,000 pounds. Either battery can rocket this police truck to 60 mph in under four seconds, which should be way quicker than the gas-powered F-150.
Front and rear seats are upgraded and covered in cloth, with the front seats redesigned to better accommodate officers wearing holsters. The seatbacks in front also get built-in steel intrusion plates, and the carpeting is swapped out for vinyl flooring. Police vehicles often receive specialized third-party upfits, so Ford reinforces and modifies the F-150's dash to make the installation of equipment easier. On the outside, roof-mounted lights can be added straight from the factory.
The dashboard has a 12-inch digital instrument cluster and a 12-inch SYNC4 infotainment touchscreen alongside a reinforced instrument panel top tray that is designed for mounting additional police equipment.
Detailed specifications of the 2023 Ford F-150 Lightning Pro SSV will be released later this summer, although we don't expect them to differ much from the standard non-police F-150 Lightning.