Ford Overhauls The Explorer SUV For China With Improved Exterior And Interior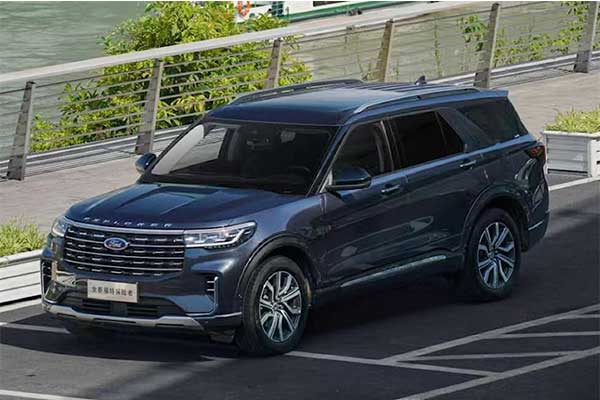 Ford has unveiled a heavily updated Explorer SUV in China. The updated mid-size SUV features a new styling front and rear and a revamped interior with a landscape-oriented 27-inch touchscreen display serving as the infotainment hub.
Starting with the exterior, the Explorer's design was inspired by modern Chinese aesthetics, which is a flowery way of saying that there is no shortage of flashy chrome announcing Ford's arrival. The grille has been widened and connects to the headlights, although the lights themselves haven't been dramatically altered. Restyled vents on the lower bumper, new wheel designs, and a so-called C-clamp rear lighting signature make for a neat overall design.
By far the most notable change is inside where the dashboard now accommodates a gargantuan 27-inch touchscreen we've also seen on the Ford Evos sold in China. Naturally, the massive display has swallowed most of the conventional buttons while the central air vents have been moved lower to make room for the XXL screen stretching across the passenger side of the dashboard. Besides the 27-inch infotainment touchscreen that comes standard in all trims, equipment includes a 12.3-inch digital instrument cluster, heads-up display, a B&O audio system, tri-zone climate control, plus an array of ADAS giving it L2+ autonomous capability.
The Chinese-spec Ford Explorer retains the turbocharged 2.3-liter EcoBoost engine that produces 272 hp (203 kW / 276 PS) and 425 Nm (313 lb-ft) of torque, just like in the outgoing model. A 10-speed automatic gearbox sends power to either the rear wheels or to all four through an intelligent AWD system.
Sadly this upgrade is only for the Chinese market with the global model to remain unchanged for the time being.