Lucid Adds A New Stealth Look Package Trim To Its Air Luxury EV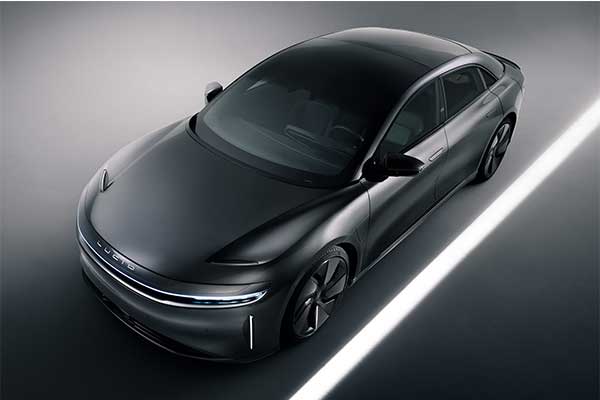 Lucid has added a brand new trim level to its Air Luxury EV sedan in the guise of the Stealth Look Package. It's a darker alternative to the Platinum Look available since the Air's launch last year.
Available on the Touring, Grand Touring and Grand Touring Performance, the Stealth Look makes changes to 35 exterior components. The car normally has two types of silver trim — one bright, the other a more matte finish — that basically get swapped out for three variations of dark grey that are termed as "black gloss," "satin graphite" or "Stealth Polished" finishes. Swaps are applied notably to the mirrors, the "contrails" that frame the roof, head- and taillight surrounds, and the "nose blade" fascia trim. The wheels are also unique to the Stealth Look. Depending on trim level, there are the 21-inch Aero Sport Stealth Wheels and 20-inch Aero Lite Stealth Wheels.
Customers will be able to configure a Lucid Air with the Stealth Look beginning Aug. 10, but production isn't expected to start until the first quarter of 2023. The Stealth Look will be a $6,000 option. "From its inception, Lucid Air was designed for two distinct looks that reflect the duality of its personality: standard Platinum Look, which highlights its luxurious nature; and now Stealth Look, which is simultaneously assertive yet under-the-radar," said Derek Jenkins, SVP of Design and Brand for Lucid Group.
Lucid recently halved its 2022 production forecast for the Air. It now expects to build 6,000 to 7,000 examples of the electric sedan, rather than the original plan to produce 20,000 units of the EV. Supply chain issues are the major culprit for the reduction.