Cult Classic Meyers Manx Dune Buggy Returns As An EV With 300 Miles Range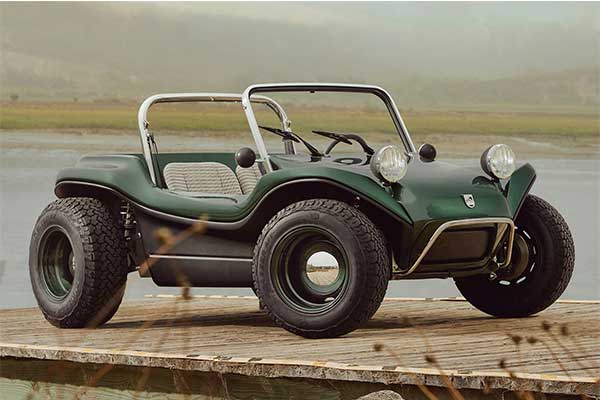 Meyers Manx is credited with creating the iconic dune buggy, a recreational vehicle designed for tackling sandy beaches and looking cool at the coast. Based on the original Volkswagen Beetle, the late Bruce Meyers started an automotive and cultural movement with his creation. Now, the company is introducing its first brand-new vehicle in six decades.
Officially known as the Meyers Manx 2.0 Electric, the zero-emissions buggy comes from Trousdale Ventures (owned by Freeman Trousdale). It acquired the Meyers Manx company from founder Bruce Meyers in 2020, only several months before he passed away aged 94. It's unclear whether that's a fibreglass body like the original had, but the overall design has remained faithful to its ancestor.
As for the preliminary specs (Meyers Manx says they're still subject to change), there are two battery pack options slated for production, a 20 kWh base model and an optional 40 kWh version. The range is estimated to be 150 miles with the base model and 300 miles with the 40 kWh vehicle. Every Manx 2.0 Electric will come with two electric motors, one for each rear wheel, giving it rear-wheel drive. Output isn't provided for the small battery pack version, but the 40 kWh car is said to have 202 horsepower and 240 pound-feet of torque. That'll be enough for a 0-60 mph time of just 4.5 seconds.
In a statement Freeman Trousdale said "As a California native, I grew up on the beaches of southern California, surrounded by its unique and creative lifestyle culture. He further added, "As I became an automotive designer, the philosophy of Bruce Meyers became a huge inspiration, and I'm sure I'm not alone in thanking him for injecting a huge dose of disruptive creativity into the automotive scene."