G.O Of Omega Power Ministries Apostle Chinyere Gifts Pastor Toyota Sequoia SUV (Photos)
G.O Of Omega Power Ministries Apostle Chinyere gifts pastor Toyota Sequoia SUV.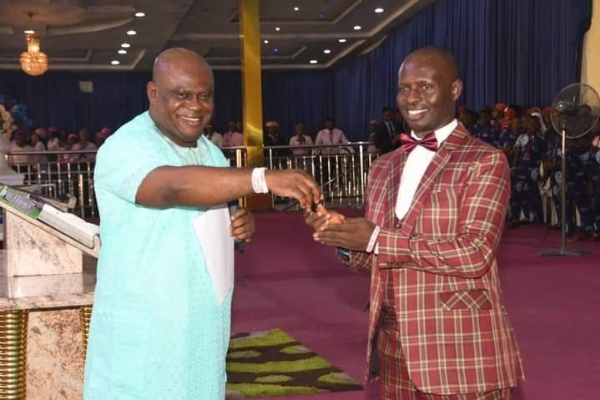 The General Overseer of Omega Power Ministries (OPM), Apostle Chibuzor Chinyere has surprised his residence Pastor with a brand new Toyota Sequoia SUV.
The SUV was earlier displayed on the screen with a worship song on the background during the message titled :
'GOD HAS REMEMBERED YOU'.
After the end of the service, Apostle Chibuzor Chinyere, in his usual manner, shocked his resident pastor, Godwin Amadi, by presenting the high-riding luxury SUV to him.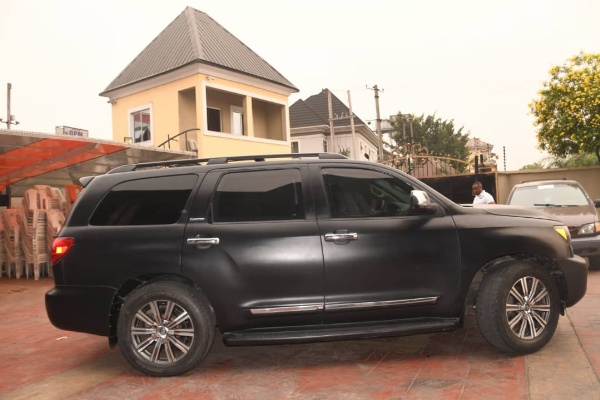 A member of the church, who speaking with IGBERE TV, said :
"This act of benevolence by Apostle Chinyere today left the congregation in shock as he announced that the jeep from today belongs to Pastor Godwin Amadi."
"The man of God who drove that same jeep to the church service did not in any way show any sign of gifting the car to someone."
"Apostle Chinyere has before now, shocked his resident Pastor with an estate worth Millions of Naira; and today he has remembered him again with another big gift."
"The man of God has gifted estates, cars and houses in the past."
"Apostle Chinyere is a man of God that cannot be predicted. He can give out anything he has as God directs him. To God alone be the Glory."
The Toyota Sequoia, produced since 2000, is a full-size luxury SUV based on the Toyota Tundra pickup truck.
The Sequoia slots in between the mid-size 4Runner and the premium Toyota Land Cruiser in North American Toyota SUV lineup. It is currently the largest SUV currently being produced under the Toyota brand.