George Floyd: New Video Shows How 2 Other Policemen Behind The Ford Explorer SUV Assisted In His Murder (VIDEO)
New video evidence of how George Floyd, an African-American man, was murdered by white policemen has emerged.
The video shows a different angle of the Ford Explorer police interceptor SUV where the killing took place.
In the new video,  two other white policemen were captured assisting Derek Chauvin to hold down George Floyd to his death on the other side of the Minneapolis Police vehicle.
Watch the video below.
The death of George Floyd, an African-American man, occurred in Minneapolis on May 25, 2020. This happened when Derek Chauvin, a White Minneapolis police officer, knelt on Floyd's neck for 8 minutes and 46 seconds; 2 minutes and 53 seconds of which occurred after Floyd became unresponsive, according to the criminal complaint filed against Chauvin.
The incident occurred during Floyd's arrest in Powderhorn, a neighbourhood south of downtown Minneapolis, Minnesota, and was recorded on smartphones of bystanders. The arrest was conducted after Floyd allegedly attempted to use a $20 bill in a deli, which an employee identified as counterfeit.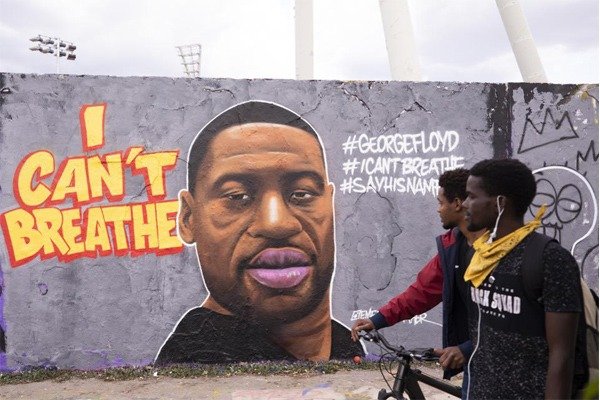 Video recording by bystanders, showing the arrested Floyd repeatedly saying "I can't breathe", were widely circulated on social media platforms and broadcast by the media.
The Federal Bureau of Investigation (FBI) is conducting a federal civil rights investigation into the incident. This came at the request of the Minneapolis Police Department. The Minnesota Bureau of Criminal Apprehension (BCA) is also investigating possible violations of Minnesota statutes.
On May 29, Chauvin was arrested and charged with third-degree murder and manslaughter for Floyd's death.  Hennepin County Attorney Michael O. Freeman saying he anticipated charges to be brought against the other three officers at the scene of Floyd's death.
The 46-year-old George Floyd was born in North Carolina and lived in Houston, Texas, when he was younger but moved to Minneapolis several years ago to find work, according to his lifelong friend, Christopher Harris.
He was known to loved ones as "Big Floyd" and was the father to a six-year-old daughter who lives in Houston with her mother, Roxie Washington.
Also See: Buy and sell cars faster on Carmart NG