GMC Hummer EV SUV And Pickup Truck Range Has Increased To 355 Miles In New 3X Trim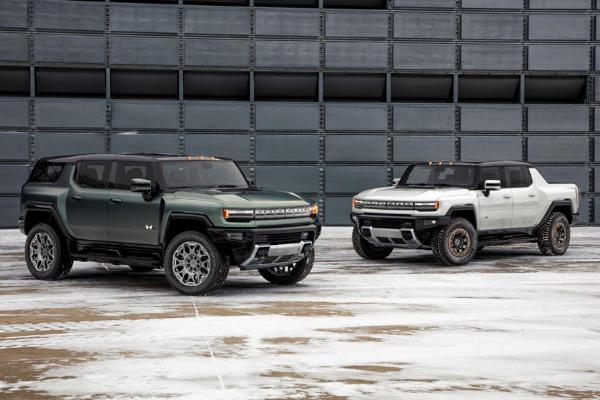 The GMC Hummer EV pickup truck and SUV will no longer be available only as the fully loaded Edition 1, which continues into the 2023 model year. That's because it's now joined by the lower EV 3X trim level, which brings with it a higher manufacturer-estimated driving range of 355 miles (26 more than the Edition 1).
Like the Edition 1 Pickup, the 3X will come with three motors, one at the front and two at the back. Together, they combine to give the truck 1,000 hp (746 kW/1,014 PS). It will also have a GMC-estimated range of 355 miles (571 km), and be capable of towing 8,500 lbs (3,855 kg), which is 1,000 lbs (453 kg) more than the Edition 1.
Those looking for a little more off-road capability will be able to combine the 3X trim with the Extreme Off-Road Package. This adds under-body cameras, additional skid plates, and rocker protection. It also comes with 18-inch wheels and 35-inch Mud-Terrain tires, all of which hurt its range and towing capacity.
GMC also notes that another potential benefit to the all-terrain-equipped trucks is a suspension tuned for better on-road handling. And our experience has shown that even Hummer with the off-road package isn't too shabby on the pavement.
Of course, skipping the off-road package will also save you some money, as will opting for the 3X trims. So unless you're really going off-road seriously, and would make regular use of the extra skid plates, under-truck camera, and chunky tires, the standard suspension and tire setup really is the way to go.