Hyundai Begins The Testing Of Its Elec City Fuel Cell Bus In Europe
Hyundai is bringing its hydrogen fuel cell bus to Munich, Germany, for testing on city routes.
In the next few weeks Hyundai will begin real-world testing of its Elec City Fuel Cell bus in Munich, Germany, ahead of a possible commercial roll out of the model in Europe.
108 examples of the bus had already been built in South Korea starting in 2019, so this series of tests will allow two bus operators to evaluate the bus in the Munich area. The automaker handed over the single bus to Busbetrieb Josef Ettenhuber GmbH, and Geldhauser Linien- und Reiseverkehr GmbH & Co. KG at a hydrogen fuel station in Wendling, Irschenberg, Bavaria.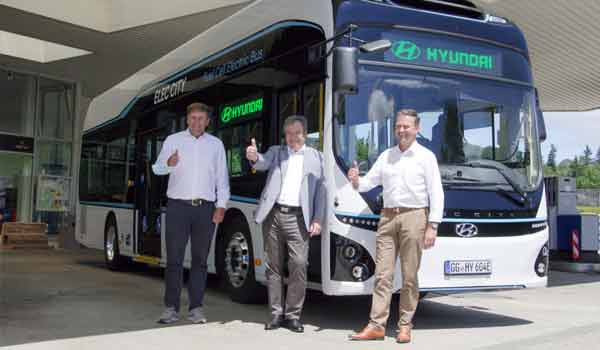 Hyundai's Elec City Fuel Cell bus has a range of more than 310 miles on a full charge, and features a 180-kW high-capacity hydrogen fuel cell system that uses two 90-kW fuel cells featuring a durable hydrogen diffusion layer paired with an electrolyte membrane. The hydrogen itself is stored in tanks on the roof, which can hold about 75 lbs of fuel—enough for the 310+ miles of range.
"The hydrogen-powered buses being used in various public bus routes in the country have avoided reduced carbon emissions by an estimated 7,700 tons to date compared to internal combustion buses," Hyundai points out. "On a yearly basis, Elec City Fuel Cell buses that are currently in operation are expected to reduce carbon emissions by the equivalent amount of CO2 sequestered in a year by 1,500 hectares of forest."
Hydrogen fuel cell buses are expected to become more commonplace in the coming decade, at least in South Korea, but like in the world of consumer cars they're bound to face competition from battery-electric buses.
In Europe, Moscow has the continent's largest fleet of battery-electric city buses at the moment, numbering around 600 and operated by MosGorTrans, and hundreds more are on the way through the end of 2021.