Toyota Mirai Drives 1003km On A Single Tank Of Hydrogen Fuel, Breaks World Record
Eco-friendly Toyota Mirai drives 1003km in one single tank of hydrogen fuel, breaks world record. 
The new record is significantly higher than the previous record of 778 km (484 miles) set by Hyundai NEXO.
After breaking the record, the Toyota Mirai was refuelled, ready to go again in only 5 minutes
Demonstrates hydrogen fuel cell technology as a leading solution for long distance driving with zero emissions.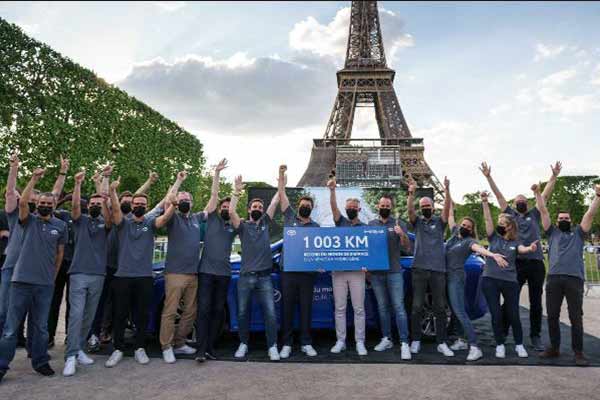 Toyota has announced that its flagship hydrogen fuel cell car, the second-generation Toyota Mirai, has increased the world record distance for FCVs to over 1000 km on a single fill.
According to the Japanese manufacturer, the car, driven by four different drivers, was able to cover a total of 1,003 km (623 miles). The Mirai still had 9 km of range remaining, as indicated by the on-board information system. The hydrogen consumption averaged 0.55 kg/100 km (the full tank is 5.6 kg).
The new record on a single tank of hydrogen fuel is significantly higher than the previous record of 778 km (484 miles) set by Hyundai NEXO.
In a statement by posted on its official website, Toyota said :
"The journey started on Wednesday 26th of May at 5:43 am from the HYSETCO hydrogen station in Orly and finished after driving 1003 km on one single fill.
The 1003 zero-emission kilometres were driven on public roads, south of Paris and in the Loir-et-Cher and Indre-et-Loire areas, and the distance & consumption were certified by an independent authority."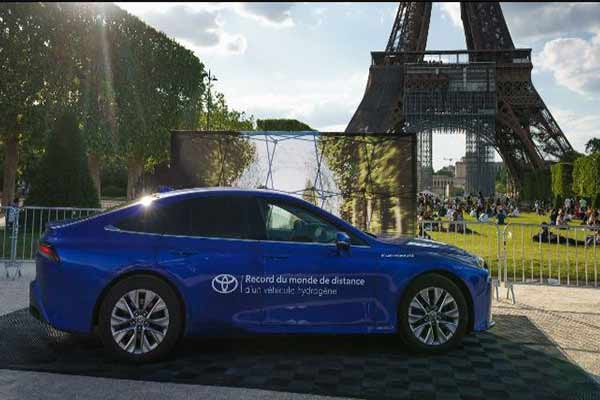 "To achieve this 1003 km driving distance record, the drivers adopted an "eco-driving" style but no special techniques that could not be used by everyday drivers."
The result is impressive indeed, especially since the Mirai was ready for more driving after just 5 minutes of refueling.