Do You Know This Rolls Royce? What Are Your Thoughts On The Rare Rolls Royce Hyperion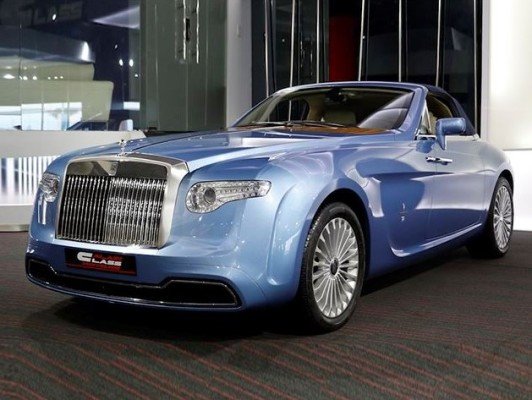 This  Rolls Royce  is as rare as the Sweptail, but it is considerably cheaper. This is for special customers and not for everybody. The name is Rolls Royce Hyperion.
Let's take it back. In 2008, the luxury automaker joined forces with Italian design house Pininfarina, and the result was this: the Rolls-Royce Hyperion which debuted at the 2008 Pebble Beach Concours d'Elegance.
The Hyperion is based on the Phantom Drophead Coupe with a retro design inspired by luxury convertibles from the 1930s.
The price of this car is on the high side probably because it's the only example in the world and was the last coach-building project supervised by Andrea Pininfarina before he died.
At the front, the familiar Rolls-Royce grille was tweaked a little bit pertaining to aerodynamics.  It comes with the Bi xenon LED headlights.
The rear seats were removed to transform the convertible into a luxurious two-seater, and the bodywork is made entirely from carbon fiber apart from the solid wood doors. The roof is also bespoke, featuring a fabric soft top that folds behind the rear seats under a wood-lined cover. Inside, the cabin was left largely unchanged featuring copious amounts of wood.
There's even a watch created specifically for the Hyperion by Swiss marque Girard-Perregaux mounted on the dashboard.
The Hyperion is endowed with a 6.7-liter V12 engine producing 453 hp and 531 lb-ft of torque. This really sounds interesting you know.
And in case you were wondering about the name, the Hyperion is named after one of the Titans of Greek mythology. This one-of-a-kind Rolls Royce Hyperion is currently listed for sale at Dubai-based dealer Alain Class Motors for the cool sum of 2,000,000 Euros (around $2.39 million). That may sound expensive, but it's still considerably cheaper than the extortionate Sweptail despite being just as rare.
Feed your eyes with more of the pictures of the Hyperion