Latest Mercedes-Benz EQE SUV's Interior Unveiled, Set For October 16th Launch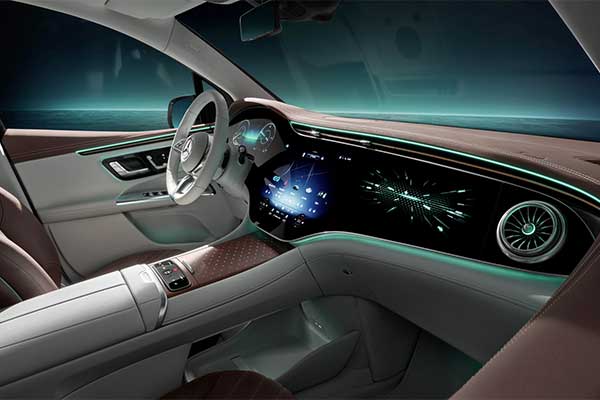 German luxury carmaker Mercedes-Benz has outlined details and new images of the EQE SUV's interior ahead of an official world premiere on October 16. Mercedes-Benz says it has taken key innovations from its flagship EQS and added dynamic elements of the large EQC SUV in order to offer a more "multi-purpose" version of its executive EQE sedan.
This means more headroom, elbow room and legroom, which Mercedes-Benz impresses makes it "one of the most spacious representatives of its class." First teased in early August in its sedan format as the carmaker makes a buzz ahead of the global reveal in October, the latest drip-feed from the premium carmaker for its sleek bow-inspired electric SUV centre largely around the stunning widescreen MBUX infotainment system.
This system features two high-resolution displays that are integrated into the dashboard under a single glass cover. The screens provide access to all of the vehicle's functions and can be customised to display the information that's most important to you.
At either side of the MBUX widescreen are turbine-style vents, which according to the German carmaker are a play on "the contrast between high-tech precision mechanics and digital, glass display world."
Although official photos of the exterior have not yet been shared by Mercedes, spy shots did manage to catch it without any camouflage on. A fully closed-off "grille" and sweptback headlights connected by an LED light bar connect its design to the rest of the EQ range.
Mercedes hasn't indicated when the EQE SUV could go on sale. We wouldn't be surprised if it happened before the end of the year, but early 2023 also seems like a safe bet. The EQE SUV will slot below the larger EQS SUV in the company's growing electric lineup, offering customers a more mainstream electric option.