Mercedes-AMG G63, Towing A Suzuki Jimny, Drag Races A Suzuki Jimny. See The Winner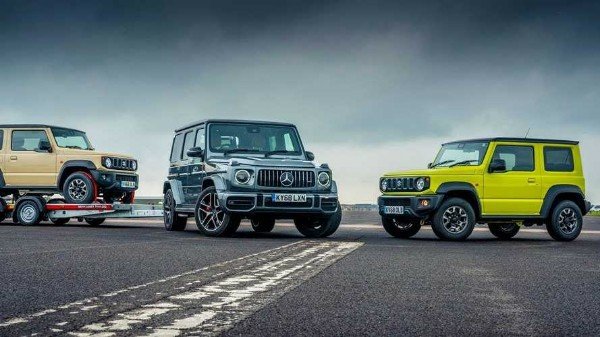 We have seen the latest Suzuki Jimny face different versions of the iconic Mercedes-Benz G-wagon in many ways ever since the boxy two-door off-roader made its global debut last year.
The Japanese mini-SUV, which gained global popularity due to its resemblance (after tweaking) to iconic German machine that is ten times its price, has faced the Merc on an off-road race with the former losing.
The 100hp Jimny was able to beat the 577hp G-Class in a tug of war, but this time with assistance from two other Jimnys, for the simple reason that together they're heavier and 12 wheels have more traction than four.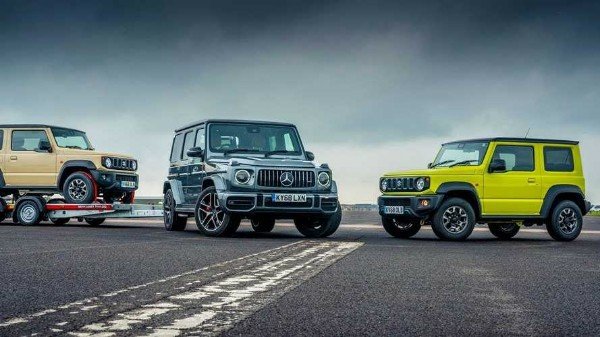 So, what about a drag race between Mercedes AMG G63 and the Jimny? Yes, the more powerful AMG G63 would surely win. What about drag racing the two, but this time, with the German SUV having a trailer on its rear.
To do this, Top Gear put a 2,500 pounds (1,135 kilograms) Suzuki Jimny on a trailer that has been attached to the German machine.
The question now is — Can the 5,600 pounds AMG G63, which has a towing capacity of 7716 pounds, still win against the Jimny? Watch the short clip above to find out.