Mercedes Benz C300 And 3 Other Cars Smashed By Telecom Mast In Abuja (Photos)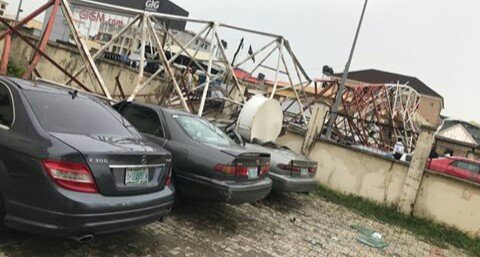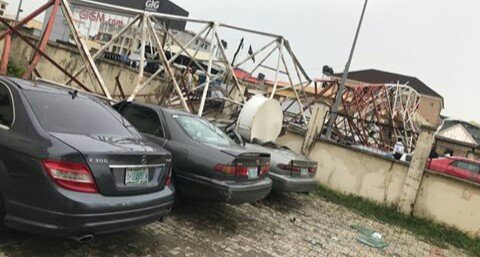 It's really a very sad experience for various car owners as telecom mast fell and smashed their parked car in Abuja on 24th of June, 2019. This incident took place during a heavy downpour on the said date.
According to the narratives of one of those affected, the police have failed to release the identity of the mast owner; they don't know who will compensate them.
He mailed a prominent Instagram sensation whose page is tundeednut voicing out his predicament and how the police isn't helping out.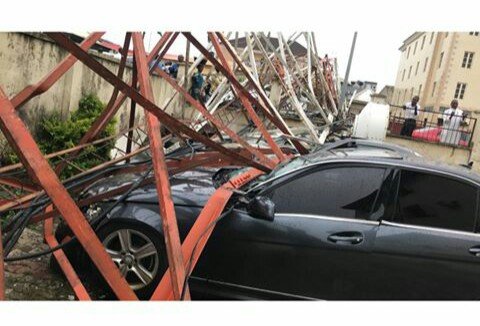 Read his mail below;
Hello Tunde Ednut,
I have been a big follower of your Instagram page for sometime now.
I wish to notify your reputable organization on the incident that took place at 5am on the 24th of June 2019 in Abuja .
A yet to be identified mast at the utako police station which is just directly opposite my house fell while it was raining and landed on 3 cars including my car inside my compound . My car and that of 3 others in my compound has been destroyed.
The police have yet to release the identity of the owner of the mast and Development control who are in charge of allocating land space for masts have so far denied having any knowledge of who owns the mast. I have also reported this to Nigerian communications commission who asked me to get the identity from Development control, but they have denied me the identity.
This accident could have led to the loss of human lives and is a future threat to residents that have masts close to their homes.
I humbly ask for your assistance in getting them to replace my car and that of others while resolving this terrible situation as soon as possible .
I wish to use your platform to notify the police , the IG of Police, AIG, Apc, Nigerian communications, Development control, Pls find attached pictures of the incident.
Thanks for your cooperation ,
Kind Regards ,
Ikechukwu Kenneth Aroh
What do you think is the best approach to handle this situation?