Mercedes-Benz Charges $1200 Per Year Subscription Fee To Unlock Its EQ Model's Full Power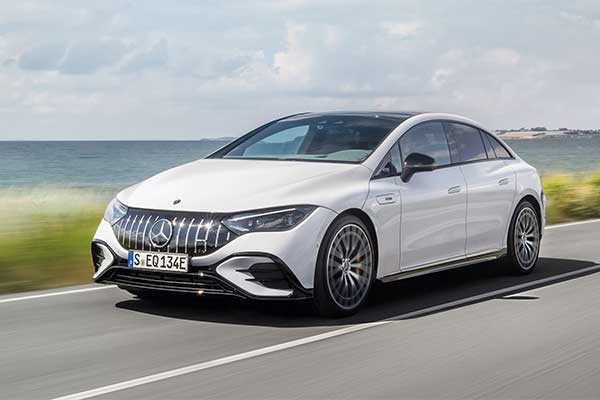 Mercedes-Benz is implementing a new subscription model to improve the overall performance characteristics of its EV's. The $1,200 annual fee increases horsepower and torque, while also reducing 0-60 times, for all electric Mercedes EQ models.
On its website, Mercedes provides the hypothetical power and 0-60 mph time benefits for a range of EQ models. The EQE 350 gets a bump from 288 horsepower to 349 horsepower and a 0-60 mph drop from 6.0 to 5.1 seconds. The EQE SUV gets the same power bump, though 0-60 mph falls from 6.2 to 5.2 seconds.
It's a similar story for the EQS 450, which shows an increase from 355 hp to 443 hp, and a new 0-60 mph time- from 5.3 to 4.5 seconds. Again, power levels jump for the EQS SUV similarly, with 0-60 times falling from 5.8 to 4.9 seconds. All figures can be "unlocked" by selecting the Dynamic drive mode, and Mercedes says torque figures increase as well, though it does not quote by how much.
Those are more than respectable performance gains, but as a buyer, it'd be hard not to wonder why the car didn't just do those things to begin with. The hardware is already in place, so it's not like Mercedes has to do anything to make the vehicles quicker. At the same time, these sorts of schemes are almost universally unpopular, and not just with journalists or people with large social media followings.
Mercedes notes that the full effect of the power increase isn't limited to the sportier drive modes, noting how it's included in "all DYNAMIC SELECT drive programs." There is no word on how the upgrade, which is listed as "COMING SOON," impacts driving range, but we assume it won't have a major effect unless owners spend significant amounts of time dipping into their newfound power reserves at stoplight drag races.