Mercedes-Benz Launches EQE SUV Range With Range Topping 53 AMG Model Outputting 677 HP
Mercedes-Benz has unveiled the EQE SUV, confirming plans for an initial five-strong model line-up, including a rapid 677 bhp EQE 53 4Matic+ from its AMG performance car division. Much as the EQE is an electric alternative to the E-class, the EQE SUV lands as the GLE's battery-powered counterpart. It measures 191.5 inches long, 76.4 inches wide, and 66.4 inches tall, slightly shorter and lower than its gasoline-burning sibling. Its weight hasn't been published yet.
Aerodynamics is a big part of the design, with a drag coefficient of about 0.26. If you look closely, you can see subtle inclusions like a little lip on the side of the rear lights and a small flap in front of the rear wheel that help air flow smoothly across the vehicle. Surprisingly, including the available running boards actually helps to further improve aero. Mercedes expects a WLTP range of about 342 miles from its 90.6-kilowatt-hour battery.
Entry-level comes in the form of the single-motor, rear-wheel-drive EQE 350+ (288bhp and 416 lb-ft) followed by the more powerful dual-motor, four-wheel drive EQE 350 4Matic (288bhp and 148 lb-ft). Further up the range is the EQE 500 4Matic with 402bhp and 632 lb-ft. There will be two AMG-specific electric motors (EQE 43 and 53), and while a breakdown of each one isn't available yet, Mercedes wants you to know that it'll top out at 677 hp (EQE 53 AMG), and both will have AMG Performance 4MATIC+ all-wheel drive, rear-axle steering, air suspension with adaptive dampening, and AMG's Active Ride Control, which is an AMG-specific roll stabilization system. AMG models receive their own individual styling cues, including a new-look Panamerica-style grille, restyled bumpers and unique wheel designs among other changes.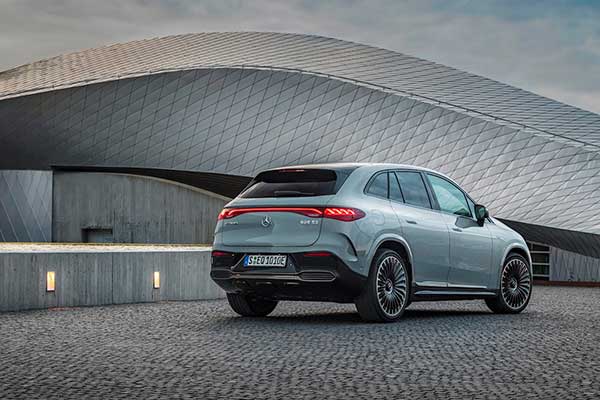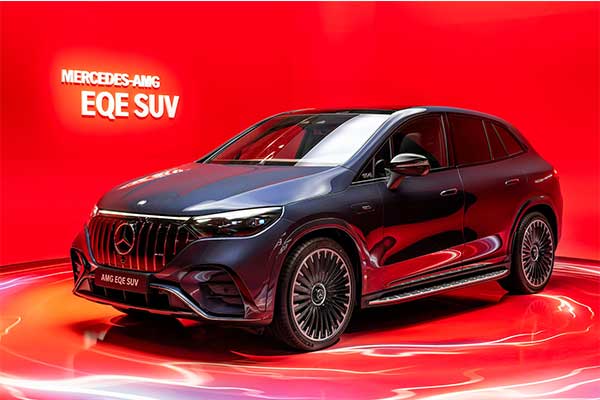 Mercedes estimates that the longest-range EQE SUV variant will travel 550 kilometres (342 miles) per charge using the optimistic WLTP scale – plan on 300 miles or so for EPA ratings. That comes up short on the sedan's 660-kilometre WLTP rating, given the crossover's aerodynamics-sabotaging height
As standard, the interior boasts the latest MBUX infotainment system with a 12.8-inch central OLED touchscreen portrait display and a 12.3-inch instrument cluster. A wireless smartphone charger and a Burmester 3D Sound System with Dolby Atmos are included too, along with 64-colour ambient lighting, heated front seats with their own ambient lighting, and a fingerprint sensor to allow you to restrict performance when your teenager has the car or a valet is parking it.
Mercedes says to expect the first EQE SUVs to arrive in dealers sometime in the first half of next year.