History was made in Africa as Mercedes Benz and World PR Media bring the Mercedes Benz World PR Beauty Business Week to Lagos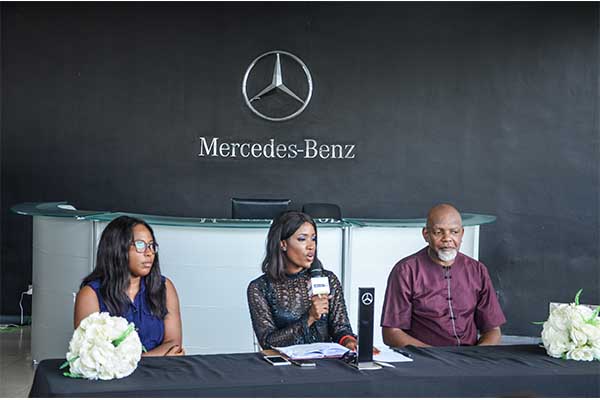 Yesterday, the Press Conference for the bi-annual Beauty Business Week was held at the Mercedes Benz showroom, where the Three days of Exhibitions and Seminars/Workshops are set to take place. Press, Exhibitors, Speakers and Celebrity Hosts of the event were invited to meet with the event organizers. The CEO of World PR Media Tayo Afolabi, Mercedes Benz Nigeria Managing Director's representative Ebere Annineh, CEO of Mahogany International Sola Oyebade were part of a panel that addressed all in attendance with regards to what to expect at the First Edition of the Mercedes Benz World PR Beauty Business Week and how to register.
Tayo Afolabi introduced the Seminars/Workshops topics/Speakers, highlights as well as the Official Jazz Singer of the day. Highlights of the event include Exhibition Zones, Master Class/Seminar section and the Lipstick Garden (first ever lipstick garden in Nigerian with teardrop glasses dropping from the roof with the lipsticks displayed inside).
Attended by Celebrities, Beauty Industry Experts like Dr. Vivian Oputa of Derma Care, Representatives of brands like Luxury Hair Care Producer, Design Essentials and International Beauty Brands Stockist Essenza (Beauty Bar), the conference was quite informative.
Automobile, Beauty and Business Editors/Journalists such as AutoJosh, Motoring World, Naija Car Lovers, Business Day, National Daily, Omogemura, Arcadia TV, Beautybox Magazine were also on ground to seek more information on the reason behind the alliance of both World PR Media and Mercedes Benz (owned by Weststar Nigeria). Tayo Afolabi, the Chief Executive of World Pr Media and Founder of the Beauty Business Week had this to say as part of her statement… The Beauty Business Week was created as an avenue to profile the trends and stakeholders in the Beauty Industry and partnering with Mercedes Benz to execute same was perfect due to one of the Luxury car giant's CSR aim to promote indigenous products/services in countries it has presence in.
At the close of the Press Conference, guests were gifted Design Essentials souvenirs in the form of goody bags and were treated to canapes from Nikita Waffles and of course the official wine of the day Dominio Wine.
Yvonne
For: sales and marketing
World Pr Media
Also See: Buy and sell cars faster on Carmart NG