Mercedes Vision AMG Concept Unveiled As A High Performance EV For AMG's Future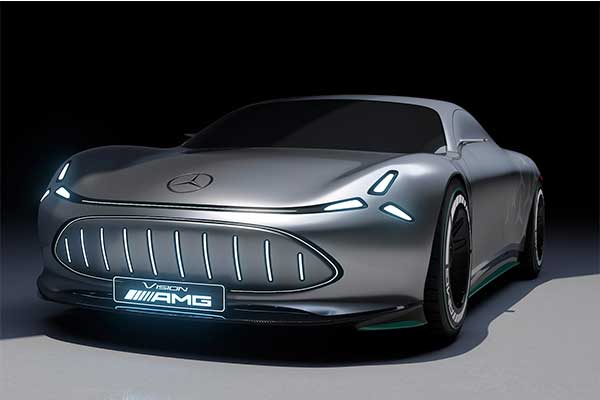 Mercedes-AMG on Thursday unveiled an electric sedan concept previewing the performance division's first dedicated EVs due in 2025. Dubbed Vision AMG, the concept uses the AMG.EA architecture is one of three EV-specific architectures Mercedes plans to launch in 2025. The automaker plans to use these architectures to go all-electric by 2030, in some markets at least.
The Vision AMG features an elegant body, with smooth, aerodynamic surfaces and a long wheelbase. The rear and side windows have been painted the same Alubeam silver colour as the rest of the car, emphasizing the sleek look while reducing the window's ability to be, well, windows. The overall shape follows in the footsteps of the EQXX concept and Mercedes says there is an active rear spoiler, although none of the photos shows it raised.
At 200.7 inches in length, the concept is a bit longer than a Mercedes-AMG GT 4Matic 4-Door and 5.7-inches longer than a Porsche Taycan. That size is important because it will allow for both the ample interior volume and a sizeable battery pack contained under the floor, between the axles while still sitting considerably lower than the EQS.
Very few details were provided on the powertrain, though Mercedes says the car uses a new Axial Flux Motor developed by the company's wholly-owned subsidiary, YASA. This new design is more compact while delivering more power than traditional electric motors. All of the drivetrain components (including the platform) were developed specifically for this car, though some elements like the 22-inch aero clad wheels, the AMG logo and the colour scheme were inspired by the Mercedes-AMG Petronas F1 team.
"The Vision AMG shows in spectacular style what electrification could look like at Mercedes-AMG while staying true to the brand aesthetic," said Philipp Schiemer CEO of Mercedes-AMG. "The study's extreme proportions create fascination and passion for performance – that's what AMG is all about."