Ram's Electric Pick-Up Truck To Debut Later This Year As An Image Has Been Teased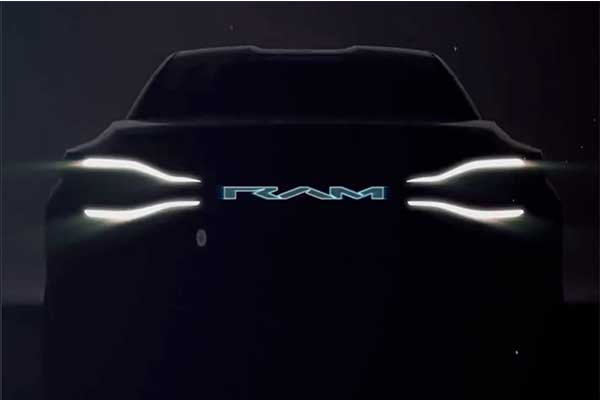 Another day, another tease. Ram is clearly enjoying the super-slow reveal of its upcoming electric pickup truck, but at least this time they've included a date. Sort of; it's actually a season, not a specific date. We assume the exacting timing will be clarified in the coming months, but in a tweet today, Ram says we should expect the teasing to end and the actual electric pickup to debut in the fall of 2022.
The new teaser, a short video posted across the brand's social media accounts and YouTube, shows off the truck's silhouette head-on and its unique lighting signature. The truck features dual running lights that bracket an illuminated Ram badge in the centre, likely branching out and around the pickup's headlights, though we can't see them. The teaser shows a truck with a tall, chiselled hood, stretched fenders over the wheels, and a double-bubble roof.
The truck will use the STLA Frame EV platform with a battery capacity of up to 101-118 kWh and a range of up to 500 miles. That means prospective buyers will have quite a wait ahead of them even after it makes its official debut. By that time, the Ford Lightning should be a fairly common sight on America's roadways, the Hummer EV will have been on sale for a couple of years and the Chevy Silverado EV will similarly be ready to make its appearance. Ram is also promising to have a range-extended electric truck to show off, but we don't yet know if that will make its online debut this fall alongside the full EV.
Ram is gaining an understanding of what truck buyers want in an EV through its Ram Real Talk events, which is where the automaker asks the public about what they want from an electric truck.