Honda Teases Production Version Of Its All Electric Prologue SUV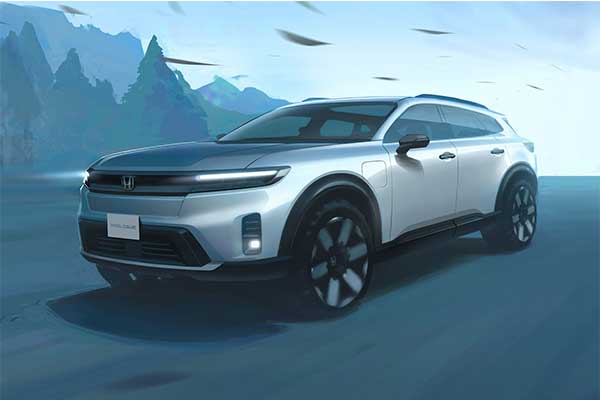 The Honda Prologue is the brand's electric crossover that stems from the automaker's work with General Motors. This official rendering is our first look at the vehicle's styling ahead of sales starting in 2024.
Billed as an "adventure-ready SUV capable of satisfying everyday driving and weekend getaways," the Prologue was designed at the Honda Design Studio in Los Angeles in collaboration with a design team in Japan. The company didn't say much about the model, but the teaser sketch suggests the crossover will have a streamlined front fascia with a fully enclosed grille that is flanked by slender headlights.
Honda execs say the front fascia draws from the adorable Honda e, a tiny EV not available in North America, but any resemblance is faint. The Prologue has a traditional look to it, as opposed to some of the matrix design and dynamic swaths of LED lighting being sported by some new EVs. The idea was to make the Prologue look a bit rugged and fit in with the conventional SUVs in the Honda showroom.
Along the sides, chunky, black cladding surrounds the wheel wells, and there's more of it on the lower sills. The charging port is on the driver's side front fender. The side mirrors and door handles are in contrasting black against the silver body. The rendering only shows the Prologue from the front three-quarter perspective, making the rear hard to see.
Since it's based on the Cadillac Lyriq, expect it to be a rear-wheel-drive powertrain that packs 340 horsepower and 326 pound-feet (440 Nm). An all-wheel-drive option is estimated to crank out closer to 500 horsepower.
In related news, Honda is working with dealers to prepare them for the EV era. As part of this effort, the company has developed a "tiered approach with dealers based on potential EV sales in their local markets." The automaker has also developed guidelines for the number and type of EV charging stations that dealers will be required to have installed based on their expected EV sales volume through 2030.