Polestar 5 Prototype Debuts With 872 Hp From 2 Motors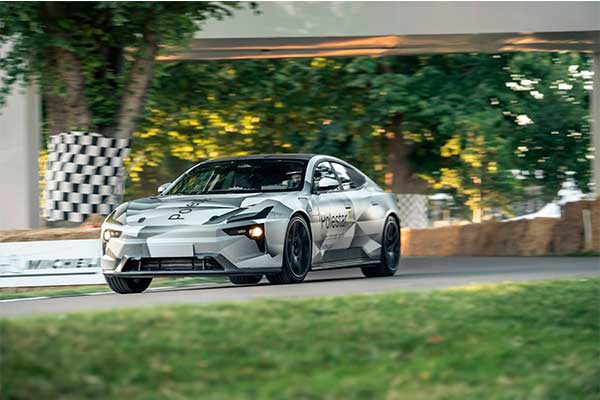 A prototype of the upcoming Polestar 5 electric fastback made its debut at the Goodwood Festival of Speed and the brand released new details about the car's powertrain. The 5 will have a chassis and electric motor setup that's unique to the Polestar brand, instead of sharing components with Volvo EVs like on current models.
A pair of motors that will enable all-wheel drive will be powering the Polestar 5 up Goodwood's hill climb. Together, Polestar is targeting the two motors to produce 884 hp and 663 lb-ft of torque. In fact, that's 122 hp more than the Porsche Taycan Turbo S' output when using that car's launch-control system normally the Turbo S makes only 616 hp but the Porsche does have 110 lb-ft more maximum torque. The automaker didn't quote specific outputs for each motor but noted that the rear motor is more powerful. Polestar also confirmed that the 5 will feature an 800-volt electrical architecture, which will enable faster charging.
This is the first time that the company is showing a development prototype of the car in public, and the brand's head of R&D in the UK, Pete Allen, is understandably excited: "Polestar 5 is shaping up to be a superb four-door GT and a true Polestar at heart. The platform combines low-volume performance car attributes with modern technological advances to bring lightweight, high-rigidity sports car chassis technology into mass production."
The market launch of the model is scheduled for 2024. Besides the existing Polestar 3 and the upcoming Polestar 5, the Swedish automaker will expand its EV range with the Polestar 3 and Polestar 4 SUVs, all coming within the next three years.