NADDC Partners With 3 Nigerian Varsities On Electric Vehicle Technology Transfer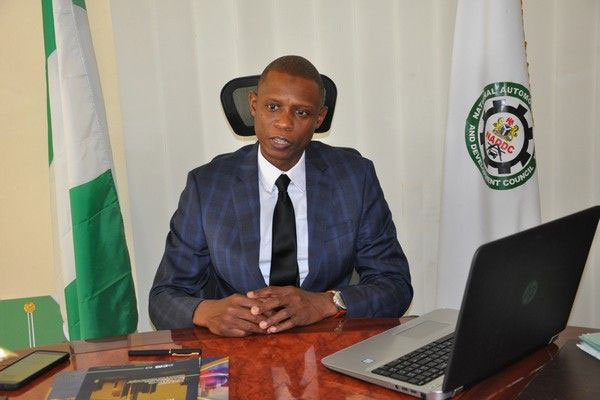 National Automotive Design and Development Agency, NADDC, partners with 3 Nigerian Varsities on electric Vehicle Technology Transfer.
The Director-General of the National Automotive Design and Development Agency, NADDC, Jelani Aliyu, has said that the agency has collaborated with three universities to work towards an Electric Vehicle Technology Transfer Pilot Program. The universities are the University of Nigeria, Nsukka, University of Lagos and Usman DanFodio University.
Mr Aliyu made the disclosure while speaking on 'Future Outlook of Solar Energy in the Nigerian Transportation Sector'. This was during the SESN's 38th National Solar Energy Forum, NASEF 2020, which took place at the Usman Danfodio University in Sokoto State.
According to him, the collaboration is to begin the Technology Transfer of Vehicle Electrification. Meanwhile, it is to further understand the challenges, opportunities and strategies for the production of electric vehicles in the country.
He said :
"We shall deploy Electric Vehicles at these three institutions and collaborate with them in Monitoring and Evaluation so as to gather the necessary empirical data needed to develop an Electric Vehicle Policy.
"Usman DanFodio University has already allocated land for this project. Hence, as soon as we finish the ongoing procurement process we shall commence construction and deploy the Electric Vehicles.
"We hope that this project will expose the fine students of this university to this exciting technology. Also, it would enable them to get an excellent grasp of it. Meanwhile, it would empower them to develop it further for even more effective Nigerian applications," he added.
Citing a recent study, the director-general said the average solar insolation in Nigeria is about 5.25kWh/m2.
This same energy, he said, could be as high as 7.0kWh/m2 in the country's northern region such as Sokoto.
"Solar Energy is a very clean and renewable energy source. it is one which continuously advancing technology is making it easier to harness and enable storage for powering a multitude of electrified transportation vehicles and solutions.
"Solar Energy and Transportation in Nigeria are a perfect match, it is a strategy that must be adopted and harnessed.
"That is why Solar would Power our EV Pilot Program here at Usman DanFodio University. We hope that it will pioneer the study and research into Solar Powered Transportation Solutions for Applicability in Nigeria and Africa in general," he said.
He said the project focus to enable a veritable landscape. This landscape would enables homes across the nation to have Solar Powered Electric Vehicle Charging Stations.
These stations, he said, would capture energy from the sun during the day. In the meantime, it would directly charge vehicles or store the energy in batteries for overnight charging.
He said:
"Solar Energy Powered Electric Vehicle Charging Stations would soon be the new normal, as the nation's usage of EVs grows exponentially.
"These would offer new opportunities for entrepreneurs as viable businesses. Most especially businesses offering unprecedented and yet increasingly necessary services to owners of zero-emission vehicles.
"Solar Power technologies are a perfect opportunity for cities and municipalities in the country. This would enhance them to leverage in providing clean, environmentally friendly and effective public transportation.
"Buses have the added advantage of having a large surface area on the roof to accommodate a big number of photovoltaic panels."
Mr Aliyu noted that cities such as Sokoto, Birnin-Kebbi, Gusau, Lagos, Kano, Enugu, Owerri would benefit tremendously from Solar Powered Buses. He stressed  that the NADDC is ready to partner with any city or state in the nation.
He added that Nigeria's quest for development would enhance identification and leveraging of solutions that was previously impossible.
To power these intelligent road systems, it means adopting technologies such as Solar Roads.
That is, instead of coal tar paving our roads, highly durable photovoltaic cells would pave the road surface . This can withstand the weight and stress of moving vehicles, he explained.
"The provision of photovoltaic cells could enable Solar Roads to thrive well. This is achievable especially when attached to the rooftops that would lie directly above and along the lengths of roads.
"This too can easily power both the transport infrastructure and the neighborhoods and settlements around them.
"So that phenomenon where roads bring trade and development to the areas they pass through would be further strengthened with the provision of electricity.
"This would expedite the development of our rural areas.
"Solar Roads would also make it more practical and economically viable to deploy and operate Electric Buses that need real-time electric supply. This would negate the need for on board batteries to store the energy.