Nissan To Unveil Mind-Reading Car System That Speed Up Drivers Reaction Times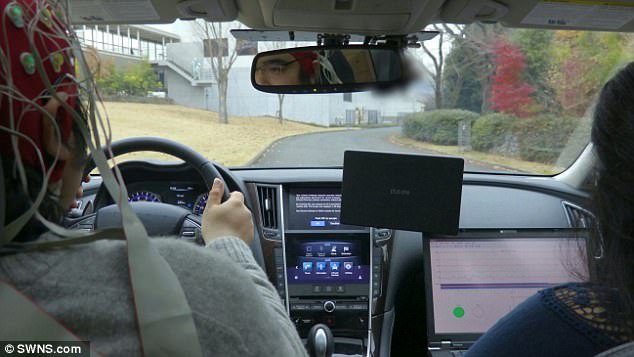 Nissan will unveil its Brain-to-Vehicle (B2V) system at the CES 2018 trade show, being held next week in Las Vegas.
The automaker shared a look at its B2V tech ahead of the show, demonstrating how it improve reaction times by around 0.2 to 0.5 seconds, which, while a seemingly small period of time, could actually make a big difference on the road, where split-second decision-making can mean the difference between accidents and narrowly avoiding the same.
By catching signs that the driver's brain is about to initiate a movement, such as turning the steering wheel or pushing the accelerator pedal, driver assist technology begins the action more quickly.
During trials, a driver wore a device that measures brain wave activity, which was then analysed by an autonomous system.
By detecting and evaluating driver discomfort, artificial intelligence can change the driving configuration or driving style when in autonomous mode.
B2V is the latest development in Nissan Intelligent Mobility, the company's vision for transforming how cars are driven, powered and integrated into society.
Nissan's goal is to offer the optimum level of driving assistance in manual driving mode so that a driver can be in complete control of his or her car.
And, by measuring brainwaves in real time, the firm can also customise the vehicle's autonomous driving system to best match the driver's style. They hope to implement the technology into their vehicles in between five to 10 years.