Official: Ineos Grenadier Quartermaster Unveiled Using A BMW Derived Inline-6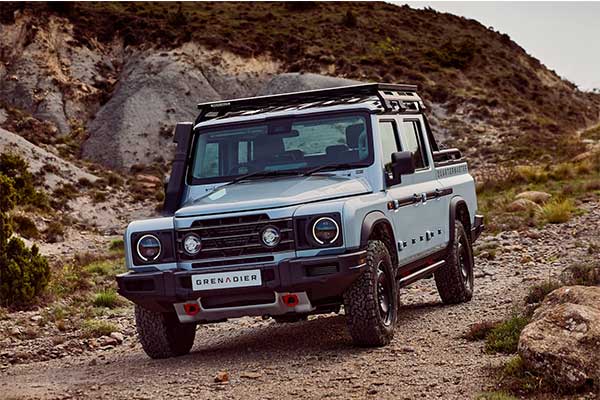 The Ineos Grenadier has a sister model. This is the Ineos Grenadier Quartermaster, a variant of the rugged off-roader with an open body.
The Ineos Grenadier is a robust off-roader of which, in addition to the concept, the appearance is also very reminiscent of that of the previous generation Land Rover Defender. Until now, the Ineos Grenadier has always been a closed five-door SUV, but in the form of this Grenadier Quartermaster, it also has a pick-up version, so with an open loading platform.
The Ineos Grenadier Quartermaster is a so-called double cab pick-up and therefore has a cab with two rows of seats. To give the Grenadier Quatermaster a somewhat usable loading platform, Ineos has extended the ladder chassis of the car by more than 30 centimeters. The cargo box is 1.56 meters deep and 1.62 meters wide. That means that a pallet fits in it. Very handy. The maximum payload is 760 kilos and, just like the closed Grenadier, you can tow up to 3,500 kilos.
Like the well-known Grenadier, the Grenadier Quartermaster has blown 3.0-six ​​in-line petrol and diesel engines from BMW under the hood. They are always linked to an eight-speed ZF automatic transmission. According to Ineos, thanks to its ground clearance of 26.4 centimeters, the Grenadier Quartermaster has approach and departure angles that no other pick-up can match. The Ineos Grenadier Quartermaster will be available in standard trim and in Trailmaster and Fieldmaster versions.