Ford Launches Mustang Mach-E Rally Variant At The Goodwood Festival Of Speed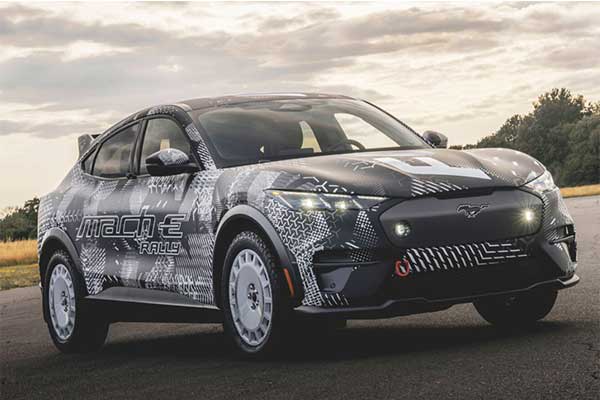 Whoever says 'Ford Mustang' does not immediately think of a rally cannon. Because your associations with the name Mustang no longer play any role since the electric Ford Mustang Mach-E existed, Ford is presenting a kind of rally version based on that Mach-E at Goodwood. And it's still in production!
It's a different angle, a rally version of a 'Ford Mustang'. It is therefore the fully electric Ford Mustang Mach-E, which with its high carriage and large ground clearance is already more suitable for the unpaved road than any other/real (cross out what is not desired for you) Mustang.
The Ford Mustang Mach-E Rally is shown during the Goodwood Festival of Speed, but still in a kind of camouflage-like print. Specifications are not there yet either, so we have to make do with what we can see in the pictures. That's a Ford Mustang Mach-E with the bumpers and 'grille' of the lightning-fast Mustang Mach-E GT, which suggests that the 487 hp powertrain of that version was also used. There are of course also differences with the GT. For example, the Rally has a considerably larger roof spoiler and stands on special rally wheels with coarser tires.
The Ford Mustang Mach-E Rally will actually be available, both in the US and in Europe. The brand does not describe the Ford Mustang Mach-E Rally as a real rally gun but as a rally-inspired model.