Performance SUV Drag Race: Bentley Bentayga Vs Porsche Cayenne Turbo Vs Alfa Stelvio Quadrifoglio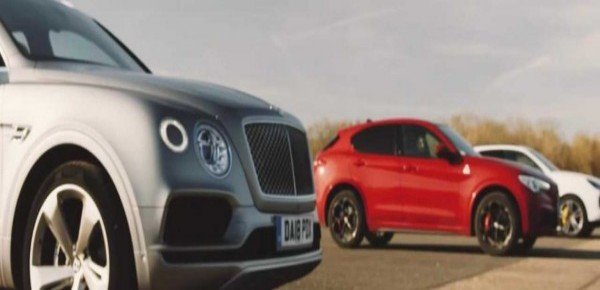 Auto Express has arranged a three-way, half-mile drag race for three Performance SUVs, the Alfa Romeo Stelvio Quadrifoglio, the Bentley Bentayga and Porsche Cayenne Turbo.
On paper, the $81,590 Alfa Romeo Stelvio Quadrifoglio has a 2.9-liter twin-turbo V6 engine that gives 503 horsepower while the $125,650 Porsche Cayenne Turbo comes with a 4.0-liter biturbo V8 , delivering 542 horsepower .The most expensive and powerful of them all, the $230,000 Bentley Bentayga ,boasts of 6.0-liter W12 ,delivering 600 horsepower.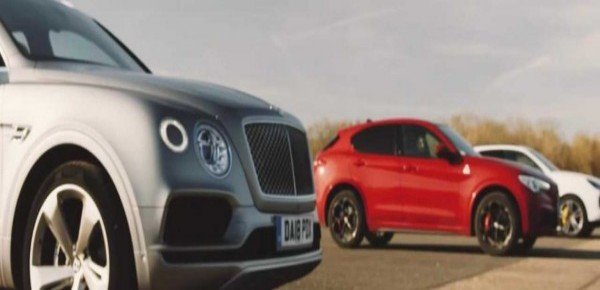 Off the line, the Bentayga and Cayenne Turbo rocket to an early lead. The Alfa holds its own by reaching 60 mph in 3.6 seconds, versus 3.5 seconds for the Cayenne Turbo and 4.1 seconds for the Bentayga.
The positions remain the same through the 100-mph mark. The Porsche Cayenne Turbo is quickest by hitting the speed in 8.5 seconds. The Stelvio Quadrifoglio is a few ticks behind at 9.0 seconds and the Bentley brings up the rear with a 9.2-second time.
Check out the video to see which performance SUV was the quickest in the standing half-mile drag race.