Peugeot Introduces A 355hp 508 PSE, The Most Powerful In The Range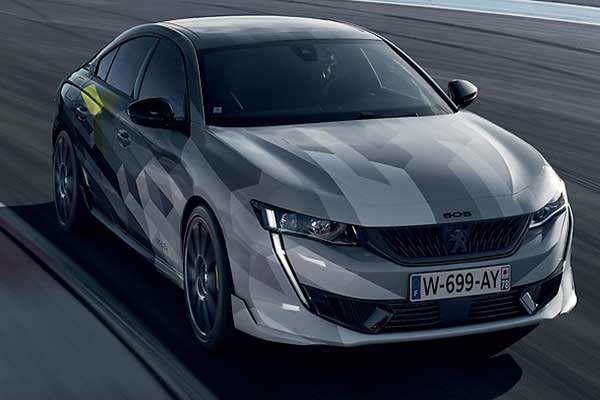 Peugeot of recent have not been known to build performance cars but that has changed now as the new 508 PSE is a 355hp plug-in hybrid performance vehicle. PSE which means Peugeot Sports Engineering will be the brands equivalent to the AMG and Rs of this world and the Peugeot wants to make a statement with this model. Its design is very compelling and due to its hybrid nature, Peugeot hopes to make a grand entry in the performance market.
First unveiled as a concept last year at the Geneva Motor Show, the 508 PSE will be available in a five-door liftback and wagon configurations. This will be the most powerful production Peugeot car in the history of the brand. Peugeot took their time to manufacture this vehicle to meet all performance requirements and sheer driving experience with all the latest technology.
The 508 PSE is powered by a 1.6-litre turbocharged 4 cylinder engine with two electric motors, one on each axle. Both motors produce a combined 355hp and 384 lb-ft of torque coupled to an 8-speed automatic transmission. A 4-wheel-drive system is standard and it does 0 to 62mph in 5.2 seconds. The 508 PSE features five driving modes, including Electric, which lets it cruise for 42 km (26 miles) in complete silence.

The 11.5-kilowatt battery is placed in a way that it doesn't eat through the cabin or boot space. It takes less than 7 hours to charge on a regular socket. If you opt for Peugeot's wall box, it will charge the 508 PSE at just 2 hours which is impressive. The exterior has an electric feel due to its electric nature. It is available in Selenium Grey, Pearl White and Nera Black, with bright green accents. We can also see the aerodynamic body kit fitted to give a sporty appearance to the 508.
On the interior, there's a mixture of Mistral Nappa Leather and Alcantara. The cabin is decorated with double stitching in Tramontane Grey and Kryptonite, with the latter being found on the outside. In addition, there's is a 10-inch touchscreen infotainment system and Focal premium audio system. The front seats have heating and massage functions (driver's seat).