2021 Peugeot Landtrek Takes Center Stage (Photos)
Small pickup trucks like the Toyota Hilux are a very important segment in this part of the world. And it looks like manufacturers are bringing different models to the table. Peugeot has now added to the list of small pickups available in the market with the introduction of the Landtrek. The 2021 Peugeot Landtrek was built in collaboration with Changan Automobile (a company Peugeot has a stake in). Let's see what this pickup brings to the table.
Looks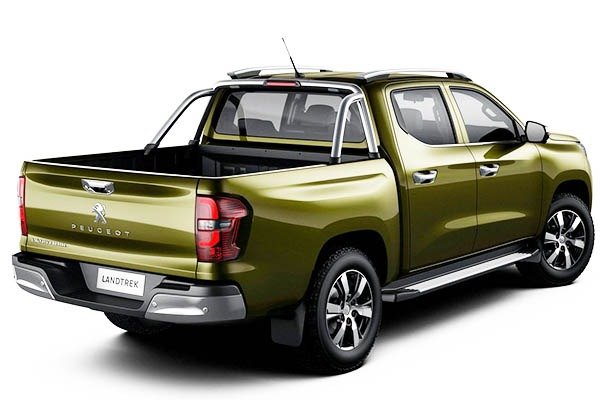 Firstly, Peugeot Landtrek looks a lot like the Changan Kaicene F70 and shares all of its parts with it. The only major difference is the regular Peugeot front grille and the wheels. They are both of the same dimensions. Despite its similarities, the Landtrek is a little bit more robust than the Hilux and its a positive feature. Like all pickups before it, the Landtrek will be available in a single or double-cabin variant and some models will have upscale trimmings.  The payload exceeds 1 ton and in some versions, it can reach 1.2 tons. Furthermore, the single cab model can be sold without the rear bumper, thus providing better access to the bed via the 180-degree opening tailgate.
Interior
The interior layout of the Peugeot is very modern and very Peugeot at best. There is a 10-inch infotainment system at the top of the dashboard that echoes the unit inside the 508. Apple CarPlay, Android Auto, Bluetooth, USB sockets, 10 GB hard drive, dual-zone climate control, and other goodies are also included. As for safety features, the Peugeot Landtrek gets Lane Departure Warning, a 360-degree camera system, Hill Descent Control, ASR and Trailer Swing Control. The Landrek can seat up to 6 passengers in some models (basic double cabin). The Peugeot Landtrek has a very roomy interior in comparison to rivals.
 Engine/Transmission
Well as for the engines, don't expect a powerful V6. Only modest 4 cylinder petrol and diesel engines. The engine variants include a 1.9-liter diesel that outputs 148 hp mated with a 6-speed manual. As for the petrol engine, it is a 2.4-liter turbocharged unit that outputs 204 hp. It is mated with a 6-speed manual or 6 speed automatic. Basic models are Rear-wheel-Drive (RWD) and 4WD (4-Wheel-Drive) models are optional (it's fitted with 4H and 4L modes).
Expect the Peugeot Landtrek to be available in Nigeria soon as it fit the bill of the popular 1-ton pickup we see around. the question is whether it will usurp the Hilux or the Mitsubishi L200? Only time will tell. Tell us in the comment section below what you feel about the 2021 Peugeot Landtrek.