Polaris Slingshot Adds SLR Trim For 2022 With Lots Of Options Across The Range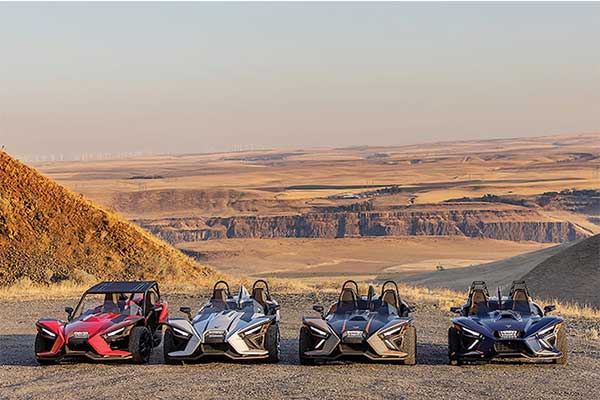 The Polaris Slingshot has been around for years, but it's getting a handful of interesting upgrades for 2022. The big news is the return of the SLR trim, which slots between the mid-level SL and range-topping R.
Slingshot buyers have two roof options to choose from. The Vented Sport Hood is made from composite materials and is designed to improve aerodynamics while also shielding occupants from the outside environment. An alternative is an Excursion Top which features a soft-top design and can be added or installed without tools. The 2022 model also features a two-tone exterior that mixes gloss and matte paint with colourful graphics.
SLR grade is equipped with a Sport Interior Package, a 7.0-inch display screen and the 203-hp version of the Slingshot's 2.0-litre inline-4. This output is shared with the R grade, while the S and SL make do with 178 hp from the same engine. The engine is paired to a five-speed manual, but a five-speed automated manual is optional at an extra cost.
The flagship R model benefits from a pair of upgrades that join the options on other trim levels. The first is a braking system developed by Italian firm Brembo; Polaris notes the front rotors are 14% larger than the ones fitted to non-R models. They're gripped by fixed callipers, and they're available in either red or orange (no one buys a Slingshot for its subtlety, after all). The second is a vented hood that gives the three-wheeler a more muscular exterior design while directing more cooling air to the cabin. It can be retrofitted to 2020 and 2021 models.