Porsche Club Of America Restores A 1998 911 (996) Into A Classic Beauty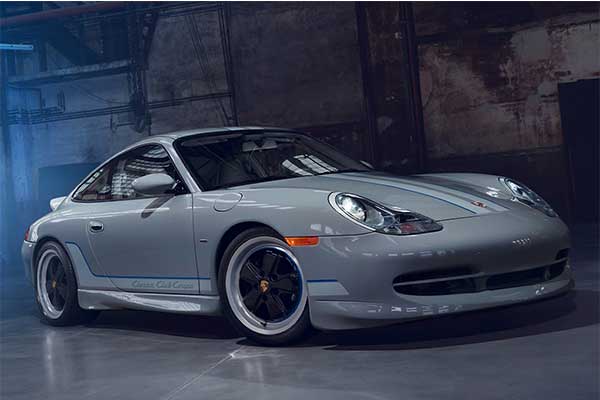 Porsche Club of America (PCA) and Porsche Classic teamed up to turn a neglected 1998 996 911 into a gorgeous one-of-a-kind build. The resulting 996 911 features a period-correct 911 GT3 drivetrain and a host of other unique touches to create this stunning show car.
The 911 Classic Club Coupe started out life as an unloved and uncared for 1998 Porsche 911 Carrera from Columbia, Virginia. Think of it as a donor body, because just about everything else inside this 996 generation 911 is different from when it was new.
After Porsche completely disassembled the donor car, it strengthened the body using both original and new parts, theoretically making this 996 a combination of new and old technology. The vitals making this 911 go are as cool as they get for a 996. Porsche fit the engine, chassis and brakes from a 996.2 911 GT3 to the Classic Club Coupe. That means it's now motoring about with a 3.6-litre flat-six that produces 381 horsepower.
The exterior design was led by Porsche Director of Special Projects, Grant Larson, who is responsible for the design of the 986 Boxster and Carrera GT. Larson's design incorporates the iconic ducktail spoiler from the 1973 911 Carrera RS 2.7 and motorsport-inspired double-bubble roof.
One-off 18.0-inch forged Fuchs wheels were created for the build with a unique Club Blau accent. The exterior features unique decals that also include Club Blau accent colours to create a cohesive design.
Then there's the interior. What's a restomod without a few mods, after all? Porsche swapped out the now-outdated head unit for one with Android Auto and Apple Carplay compatibility, as well as totally restoring and changing the materials inside the 996 Carrera.
There is no dollar amount put on this restoration process, but rest assured the cost would be an absurd figure. From start to finish, it took Porsche Classic 2½ years.