Racer Controls 196mph Nissan GT-R Using PlayStation 4 Gamepad From An Helicopter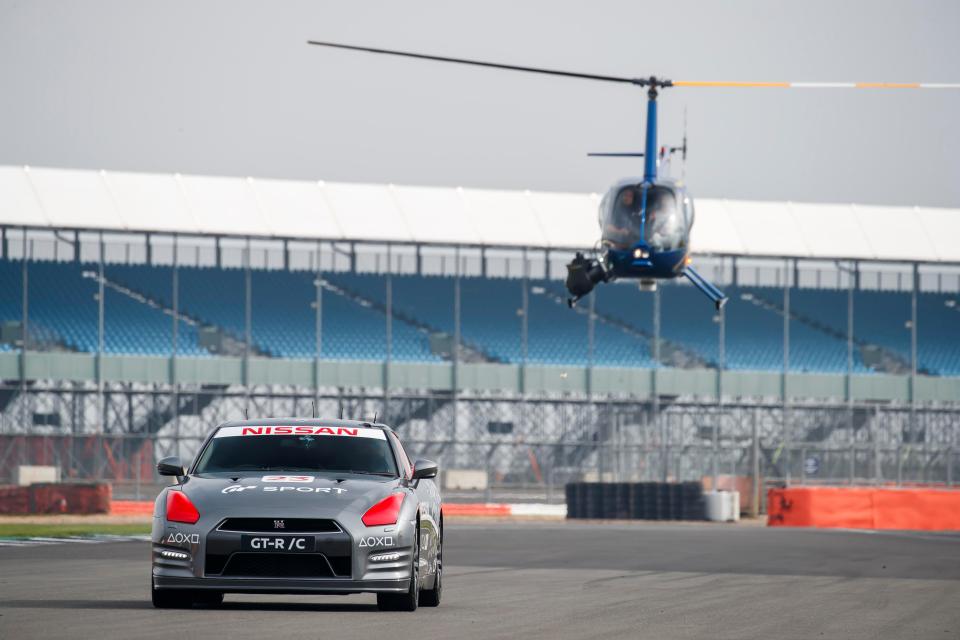 This is the ultimate remote-control car for gamers,the Nissan GT-R/C with a top speed of 196mph .The one-off supercar, designed to celebrate the release of the new Gran Turismo Sport game, can be raced using just a PlayStation 4 controller.
And race ace Jann Mardenborough took to the joystick to show off the prototype around Silverstone,designed to mark the release of the new Gran Turismo Sport video game.
But he wasn't just sat on a sofa in his boxers,instead Jann took to the skies in a helicopter to chase the car.
The GT-R/C has a standard 542bhp V6 engine and uses four robots to operate steering, gearbox, brakes and accelerator.

Supercar cockpit uses four robots hooked up to wifi
Six computers in the boot update controls 100 times a second.
But in the helicopter, Jann was using a regular PS4 controller that you use to play Gran Turismo or Grand Theft Auto in your living room.
His inputs on the tiny gamepad were transmitted wirelessly to the Nissan tearing around Silverstone.
The only other gadget for Jann was a LCD display mounted the helicopter's cockpit to show the car's speed.
It was the perfect opportunity for Jann to show off his skills after he made it to the top tier of racing after impressing in Nissan's GT Academy that takes amateur gamers and gives them a shot at real-life motorsport.
Jann's prowess on the legendary video game led to a full time race seat and a spot at Le Mans.
No stranger to a gamepad then, Jann clocked a fastest lap of 1 minute 17 seconds with an average speed of 76mph, hitting a top speed of 131 mph.By comparison, a "regular" driver averages 83mph around the circuit.
Jann said: "This was once-in-a-lifetime, truly epic stuff. The GT-R /C has brought my two worlds together – the virtual of gaming and the reality of motorsport – in a way I never thought possible.
"The response from the car when using the controller was far more engaging than I thought it would be.
"Driving a full-size, remote-control GT-R to 131mph at Silverstone whilst chasing it down in a helicopter was an unforgettable experience."
See Related Post New Peugeot Pick-Up Truck To Replace 404 And 504 Pick-Up (Photos)