A Review Of Some Of The Cool Cars I Drove Lately 2014 Hyundai Santa Fe (Part 1).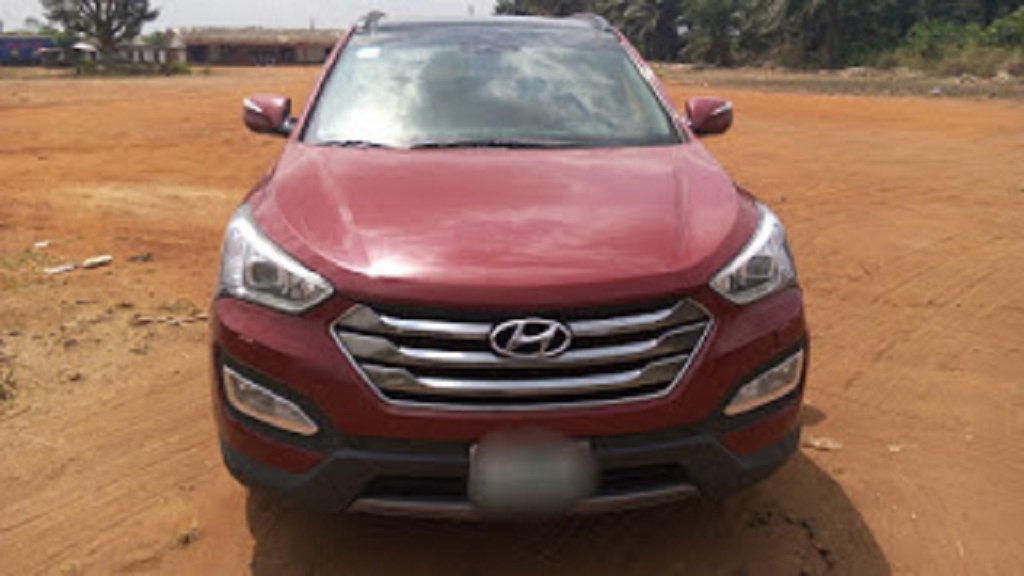 A Review Of Some Of The Cool Cars I Drove Lately
I have been spending a great portion of my time doing a lot of highway/inter-state driving with different brands, models and categories of cars. And the fun part is that i love driving and i get paid for the driving.
I have decided to be doing a brief review of any car i drive for more than 50 miles or 80 kilometers at one drive cycle for you guys and give my assessment of the car. Let's know those that made me happy and those that made me unhappy, including those that sprang pleasant and unsavory surprises.

To head the line-up is a lovely red  Hyundai Santa Fe, 3.3 liter engine, 7 seater Crossover.
When i was told that i would drive a Hyundai Santa Fe from Lagos to Onitsha i was like; "well, another one of my regular trips", not knowing that lots of surprises were in store for me.
I had to go pick up the car very late in the night and was delighted to see that it was a 2014 model that was in an impeccable condition. I went with my scan tool to inspect and ensure the car could make it for the trip the next day and the car passed all the inspection with flying colours.
For starters, it is a low mileage car of just 35,000 kilometers which for the regular Nigerian is an ultra low mileage car as the car was bought brand new.
The man who handed the car over to me told me excitedly that he had bought #5,000 fuel for me which was just half tank. That he was reliably informed that the car is very fuel efficient so the half tank would take me from Lagos to Onitsha.
Well, i told him that from experience, i would still fill the tank to the brim and whatever remained when i got to Onitsha, they would have it.
I left and got to a filling station and was expecting to fill it with probably just #3,000 but the car took another #5,000 making #10,000 fuel to fill the tank. And i immediately looked at the range i had and found a disappointing 311 kilometers only. Jesu. Only?
Well i went home and prepped for the following day.
I left by 5.30am and had to load the CDs so i have enough music to keep me company for the duration of the trip as i was travelling alone. I got my second shocker. The car is equipped with just a single CD loader. Jeez, for such a beautiful, seemingly loaded car? Kai. See falling of hand. Though i realized it also had AUX port for playing music through other means but, 'can't it have a 6 loader and the AUX? Is this asking for too much, eh, Hyundai?
The AC was very effective and i continually had to turn it off without opening the windows. Just once it got hot a bit, i put it on again.
I quickly disliked the extremely light steering of the car. And this is a Crossover, a V6 with 3.3 liters and 290 angry horses under the hood? Haba. I even felt it would be automatically compensating like some other cars that are designed to be light within the town and heavy on higher speeds on the highway so that one will have better feel of the road and better control of the car at highway speeds, but not this Hyundai.
The suspension system is also very light and the brakes were strong for the car but i discovered that they were very fidgety under panic braking at highway speeds. At one occasion that a trailer swung into my path and i had to brake while swinging away from the mass of metal, the pedal pulsated so violently that it nearly threw my foot away from it. An incident i had never experienced with any other car ever prior to that day. Yes, i know ABS systems pulsate but not the violent way this car did to me.
The production from the sound system is abysmally poor. Especially when compared to other similar Crossovers. My Mazda CX7 has a PH.d while this one is in the Primary school in this department.
But i love the steering wheel boss itself and the easy layout of the numerous buttons on it and the dashboard layout.
The love i had for the dashboard was damped by the tiny LCD screen for the Climate control, radio and the reverse camera. Even the graphics on it i feel is below par with its mates.
I must commend the seats, their feel, beauty and support were excellent, at least for me. The pedals are also well laid out unlike some cars that even give you feet fatigue and pains over a long distance. And i was happy to see that the car has great headroom. I will talk more on this in my subsequent reviews.
I actually loved the fact that the two side mirrors automatically swing downwards to aid your rearwards visibility once the reverse gear is engaged and they are complimented by parking sensors that beep to indicate your proximity to objects while driving.
I didn't bother to use the Steptronic of the transmission so i can't comment on its performance but i will say that the car has good response from standing start, rolling start and for overtaking. Its movement is brisk enough for the regular driver.
Yes, i drove and drove and to my dismay, my fuel level kept dropping too fast. With other cars, i would have done an average of 75 miles from Lagos before their fuel guage dropped from the 'full mark' and by then i would have passed Ijebu Itele in Ogun State, but not this drunkard. It dropped two notches by the time i was getting to Ijebu Itele and was below the half mark by the time i got to Ore proper, and i was not heavy on the accelerator.
I realized i had fuel for only 154 more kilometers but the direction map at Benin City showed i had about 190 more kilometers more to go.
By the time i got to Benin, just before the turn-off to the By-Pass, i realized that i needed to buy more fuel as it became glaring that what i had won't get to Onitsha no matter what i did short of extreme modifications to reduce drag. So i had to buy extra #3,500 worth of fuel again, now making #13,500 worth of fuel from Lagos to G.R.A in Onitsha.
After i bought the extra #3,500 worth of fuel just at junction before the By-Pass, Benin City.
When i got to the 'Joy Spot' at Umunnede, i decided to stop for a photoshoot. And realized the car is the Long Wheel Base (LWB) Edition as it is equipped with 7 seats. Two were folded flush into the floor of the boot. I took them up and found out that an average grown adult would have issues sitting in them.
I also realized that the car has a panoramic roof but i didn't bother operating that as well.
By the time i got to Onitsha, i dug out the manual and checked for the fuel tank capacity and discovered it to be 64 liters. Yet, i felt that was not enough reason for the car to drink my #13,500 worth of fuel like a starved man drinking chilled bottles of 'Orijin' beer.
The Manual.
I enjoyed driving this car more because it was a fault-free new car with ok features but a thirsty gut (atleast on the highway). It should be nicer to use it within the city as that light steering might be handy and i expect a more decent fuel consumption. But personally, i would get bored if i were to own it or had to keep driving it for a long time.
But can i recommend it to others? Yes i will, to those who need a Crossover that can carry their family without lots of luggages and get them to their destination without much fanfare or drama and also no 'off da hook' excitement.
Mind you, this is my personal opinion.
More pictures below…..
Cool steering and dash layout.
Men at work. "Softwork'.
See the tiny space left for the 6th and 7th seats.
Panoramic roof.
Decent sized boot when the seats are folded down.
50:50 Split-folding rearmost seats.
This was at my destination in Onitsha. Only 81 more kilometers to empty was the quantity of fuel left.
Handsome right round.
Source: naijacarlovers