See How Ex-Governor Ibikunle Amosun Left Roads In Akute-Alagbole-Ajuwon (PHOTOS)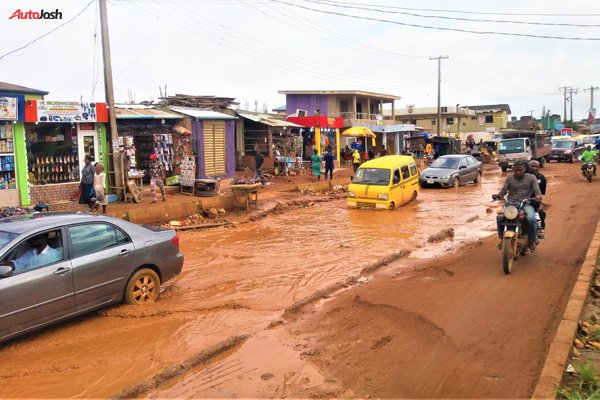 Alagbole-Akute-Ajuwon is the part of Ogun state that shares borders with Ojodu-Berger axis of Lagos state. Many of the residents there work in Lagos state.
For close to a decade, it has been a hellish experience for residents of that location, especially commuters that ply roads there.
Roads in Akute, Alagbole, and Ajuwon have been in the most atrocious condition for years.
The delay in their rehabilitation of these roads can be blamed on the delay in the construction of flyover bridges there – one in Alagbole-Yakoyo axis, and another at Akute.
The construction of the bridges there has taken a massive toll on roads in Akute, Ajuwon, Lambe and neighbouring communities.
The rehabilitation of roads in Alagbole-Akute-Ajuwon axis was designed to be the concluding part of the construction of the 2 flyover bridges.
Almost a decade after, one of the bridges is barely at its completion stage, with the extending roads yet to be constructed. It struggled to reach its current stage before the last general election and by extension the exit of Ibikunle Amosun as the Governor of Ogun State. The second bridge at Akute has been completely abandoned.
As a result of this, the construct the adjoining roads have been completely abandoned. Thereby, leaving roads around there terrifically degraded. Commuters and motorists who ply the roads regularly often have reasons to wail.
With the new government of Ogun State led by Prince Dapo Abiodun still trying to settle down to its numerous responsibilities, it is uncertain when succor will eventually come to residents of Alagbole-Akute-Ajuwon.
Alagbole, Akute, Ajuwon are in Ifo Local Government Area of Ogun State.