Senator Ifeanyi Uba Gifts Bulletproof G-Class Brabus, 4 Trucks To Apostle Chibuzor Chinyere (PHOTOS)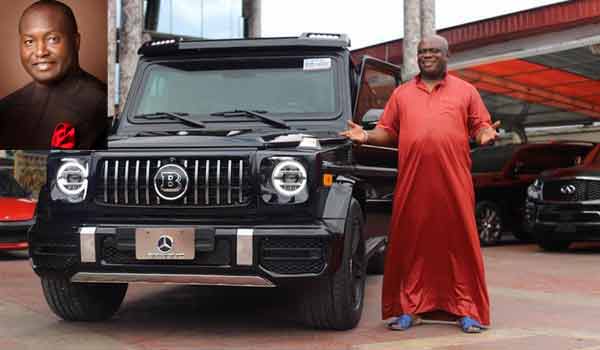 Apostle Chibuzor Chinyere, the General Overseer of Port Harcourt-based church, Omega Power Ministry (OPM) has announced some elaborate gifts that he received from oil magnate and politician, Senator Ifeanyi Uba.
In a Facebook post, the renown philanthropist revealed how the Chairman of Capital Oil, presented him with a Bulletproof G-Class Brabus and four trucks.
According to Chibuzor, the donation was made as a sign of gratitude after the lawmaker was healed by the clergyman some years ago for an ailment.
Chinyere wrote:
Another miracle. The Chairman of CAPITAL OIL, Sen Ifeanyi Uba, not Sen Andy Uba, blessed Apostle Chibuzor Chinyere the general overseer of omega power ministry OPM with Bulletproof limousine G-Wagon.
Remember about few years ago after God used OPM G.O to heal the BILLIONAIRE after he has traveled to so many countries without solution.
During his thanksgiving at the OPM HQ , He donated 120 million to OPM and later donated 4 big lorry trailer.
The 50 year old Patrick Ifeanyi Ubah is a Nigerian businessman, entrepreneur and currently the Senator representing Anambra South Senatorial District in the Nigerian senate.He is the Chairman of Capital Oil which he founded in 2001.