Nigeria's Premier Photographer, Chief Solomon Osagie Alonge, Poses With His Volkswagen Beetle (Throwback Photos)
Chief Solomon Osagie Alonge was one of Nigeria's premier photographers. He was also the first official photographer of the Palace of the Oba of Benin Kingdom.
Alonge was born in Benin City in 1911. His photography work spanned half a century and recorded the reigns of Oba Akenzua II (1933–1978) and Oba Erediauwa.
Alonge's photography preserves an important historical record of Benin arts and culture during the periods of British colonial rule and the transition to Nigerian independence during the 1950s and 1960s.
Until his death in 1994, the illustrious photographer operated a famous photo studio in Benin City called Ideal Photo Studio.
The Smithsonian National Museum of African Art in Washington, DC, in the United State, have archives of some of his photographs.
Below is the photo of Chief Solomon Osagie Alonge posing with his Volkswagen Beetle in front of his studio in 1960.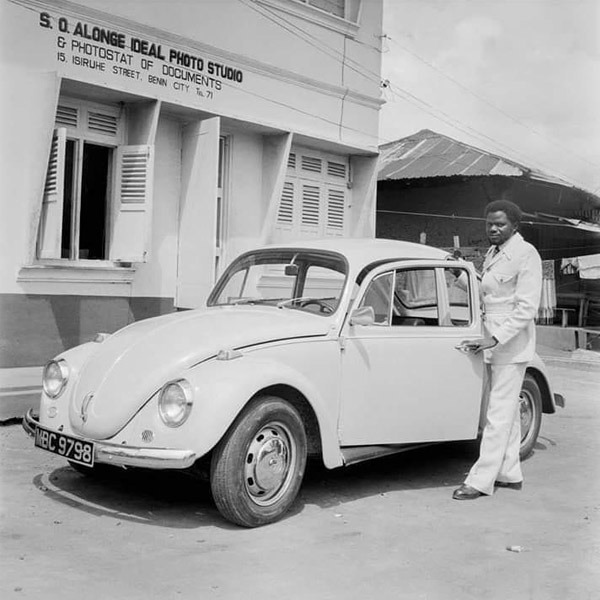 Volkswagen Beetle
The iconic Volkswagen Beetle goes by several nicknames. In Nigeria, it was fondly referred to as "Tortoise Car", or "Ijapa" (Tortoise).
Adolf Hitler played a role in the birth of this two-door, rear-engine economy car. He wanted a "people's car" that German families could afford.
The production of the VW Beetle spanned from 1938-2018.  A total of 21,529,464 were already built as of 2003. This made it the longest produced vehicle in history!.
German automaker Volkswagen (VW) was the manufacturer and marketer of the Beetle.
Below are some popular events captured by Chief Solomon Alonge.