State Of Deplorable Tin Can, Apapa Ports Access Roads (PHOTOS)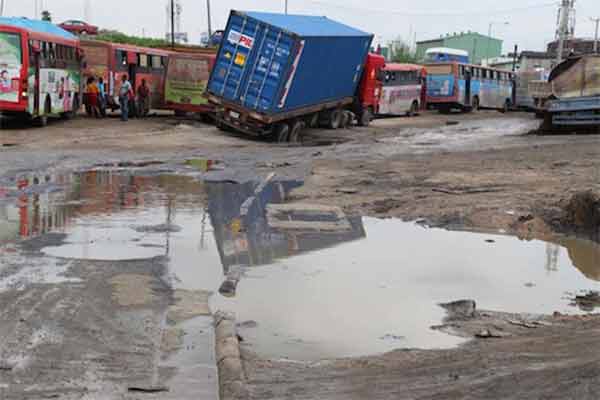 State of deplorable tin can, Apapa Ports access roads. 
Infrastructures are created to make living a memorable experience as they make the day to day experience bearable for people but when these infrastructures are not in good shape then, they make living tedious.
This is the case of the access roads to the Tin Can Island Port and the Apapa Port Complex. The present state of these roads is bad coupled with the rainy season and the protracted construction work going on along the roads. This would not have been the case if government took the matters to heart early enough and as a result of this neglect, a lot of businesses have been affected. Many businesses have moved out of Apapa because of the negative impact of the gridlock.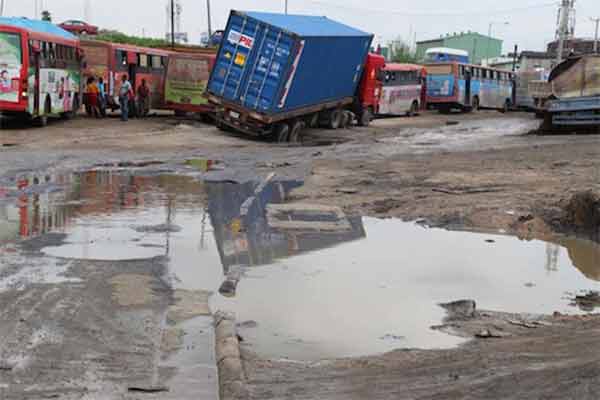 The roads are dilapidated because they had been built over the years with no major maintenance or restructuring being been done on them. It is such that many roads are left to decay.
The slow pace of rehabilitation work around Tin Can/Mile 2 axis, Liverpool junction and Apapa port is another factor that has affected the roads. This has led to a lot of diversion of vehicles to other parts of the area and an area that was once free is now battling with holdup.
Security and traffic management officials also make matters worse as they mount roadblocks and multiple checkpoints along the port roads. These checkpoints are not just for checking of vehicles but are illegal toll collection points for these unscrupulous government officials. Indeed, the level of corruption of these operatives is inexplicable.
It is so bad that even the electornic call-up system introduced by the Nigerian Ports Authority (NPA) in February has been sabotaged by the same security officials.
One hopes that the Federal Government, which rakes in huge revenue from the ports, will expedite action on repairs of the port access roads and save commuters the daily pains they endure in Apapa.