Tanker On Bridges: Why Can't There Be A Permanent Solution?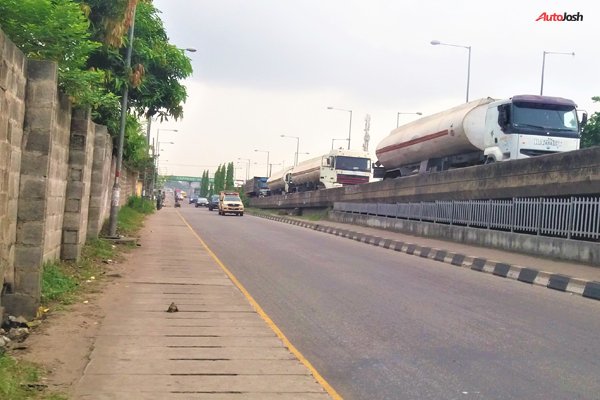 It is no more news that the petrol tankers and other articulated trucks are back on some major expressways and flyovers in Lagos.
Lagosians got a brief respite about two weeks ago when the Presidential campaign train hit the nation's commercial capital.
During that brief period, the roads were relatively traffic-gridlock free. Journey time was cut by half or less, sanity was temporarily restored on some of those routes.
The menace of parked trailers on expressways and bridges has become a hopeless situation in Lagos. Efforts by the successive Lagos state government to relocate these trucks from the expressways yielded no result.
Several bridges along the way are not spared of their presence and enormous weights. The bridges include Ojuelegba, Abati, Staidum, Ijora, Iganmu, Eko, Carter and Jibowu bridges.
The temporary relocation of the trucks from the expressways and bridges weeks ago got a lot of people wondering why the trucks were not kept where they were relocated to permanently.
Or are the authorities insincere about relocating these trucks?