This G-Wagon Has Been Slapped With A Manual Gear And A Cadillac V8 Engine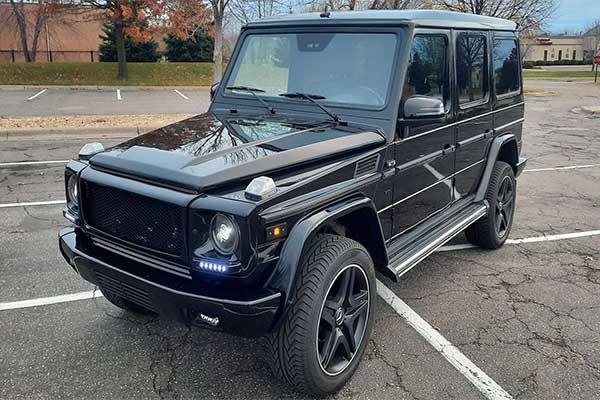 In the world of tunning or modifications, the possibilities are limitless as shown in this G-Wagon swapped with a Caddilac CTS-V engine and its manual transmission. The best part is that this conversion is up for offering at auction site Cars and Bids.
The G-Wagon started its life as a 2002 Mercedes-Benz G500 with the owner of the SUV taking out the 5.0-litre V8 together with the transmission and replacing it with a 6.0-litre LS2 V8 and six-speed manual transmission from a 2006 Cadillac CTS-V, though he states he has managed to retain the G's all-wheel-drive capability, including its locking front, centre, and rear differentials.
When the swap happened, the SUV had around 220,000 miles (~354,000 km) under its belt, whereas the donor car displayed a little over 170,000 miles (~273,000 km). Since then, the owner has put roughly 4,000 miles (~6,400 km) more.
The visible paint chips, scratches, upholstery wear, and some rust means that the future owner will have to apply some much needed TLC to it. An oil change is also required to keep this vehicle running at its optimum.
A set of AMG wheels give it a factory look, but the dashboard is very definitely not factory, the instrument cluster having been ripped out and replaced with an Android smartphone running the Torque Pro app to act as a gauge pack. Heated seats, sunroof, and other such equipment, sprinkled with a nice V8 burble, contributes to the ambience.
As for the price, well it's not on the high side as 1st bid was within $16000 and with the auction ending by December 1, it's quite a steal but as indicated before, some maintenance needs to be done.