This One-Off Bentley Bentayga Field Sports Edition Allows You To Hunt In Style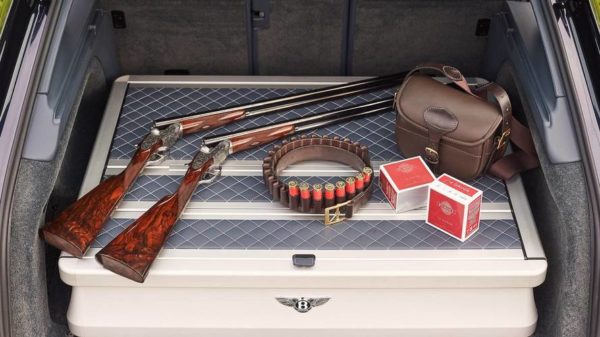 Bentley and Mulliner received assistance from ultra-custom gun manufacturer Purdey to help design this Bentayga to be useful for hunters. The results are centered around additional storage. In the cargo area, there's a large sliding storage unit that contains several compartments that can house a variety of supplies from first-aid kits to additional rounds of ammunition.
In between the rear seats is a new leather-trimmed locking storage case for up to two guns. A Purdey bag can be optioned, containing things like a waistcoat, a waterproof cape, gaiters, field coat, shoes, and an overnight bag. Considering it's still a Bentley, the same quilted leather interior and room enough for champagne flutes remains, naturally.
Mulliner hasn't announced pricing for this one-off Bentayga Field Sports, but it won't come cheap, as regular 2018 Bentley Bentayga starts at $231,825 and Purdey guns can take up to two years to make. Bentley says that with enough demand they could offer it to customers.
Whatever opulent option you do decide, the Bentayga still comes standard with a 6.0-liter biturbo V8 good for 600 horsepower (447 kilowatts) and 664 pound-feet (900 Newton-meters) of torque. Enough power to propel it to 62 miles per hour (100 kilometers per hour) in just 4.1 seconds, and get you to the perfect hunting spot by sunrise.