This Photo Of A Cycling Woman Depicts The Industry Of African Women (PHOTO)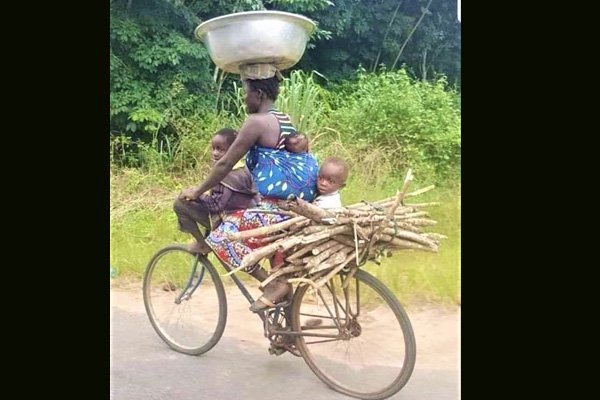 "If wealth was the inevitable result of hard work and enterprise, every woman in Africa would be a millionaire." –  George Monbiot (a British writer and activist),
Indeed, African women are hardworking, but least privileded in terms of income and opportunities.
They work twice as hard as men. They start their day early and end it late. They are also great multi-taskers.
In Third World nations, mostly in rural setup, they look after the house and raise the children whilst the men look after the land and raise the crops. But recent research has blown this myth sky-high.
According to the UN Food and Agriculture Organisation in Rome, women are responsible for 'at least 50% of all food production'.
A study by the Economic Commission for Africa, for example, has shown that women do 60% to 80% of all the agricultural work on the continent plus 50% of all animal 'husbandry' and 100% of the food processing.
In other words, women do two primary jobs in Africa – in the home and in agriculture.
The picture below tells a classic tale of the industry of African women.