Using A keke NAPEP For Ambulance or Police Vehicle: Is It Wrong?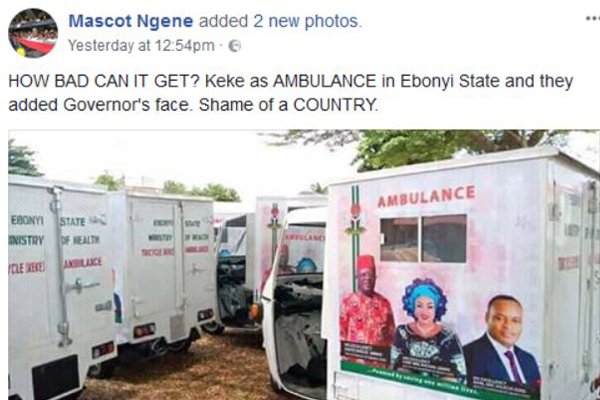 Recently, some pictures of tricycles popularly referred to as "Keke NAPEP" went viral.
They went viral because they were being used as ambulances and Police patrol vehicles.
Popular opinion was that the tricycles were substandard for use as emergency vehicles, or even worse, as police patrol vehicles.
So, the question is: what makes Keke NAPEP inappropriate for use as an ambulance, or as a police patrol vehicle?
First, let us be reminded that an ambulance is a vehicle equipped for taking sick or injured people to and from hospital, especially in emergencies.
The interior of an ambulance should have room for one or more patients plus an emergency medical personnel. It should also contains a variety of supplies and equipment that are used to stabilize the patient's condition while en route.
So if a Keke NAPEP can meet the requirements, so what the big deal?
Let us also know that what determines the most appropriate vehicle to use is the terrain to be traveled. For instance, helicopters, airplanes, boats, etc. are best suited for some terrains.
So, in our own peculiar environment, especially terrains where the regular van cannot access – I think it is wise to deploy Keke NAPEP that can access those terrains.
As for the police patrol tricycles, if the police can use motorcycles as patrol vehicles, what makes Keke NAPEP inappropriate for similar purpose?
Or what do you think?