Which Notorious Dictator Owns This Amazing 1978 Model Mercedes-Benz 600 Landaulet?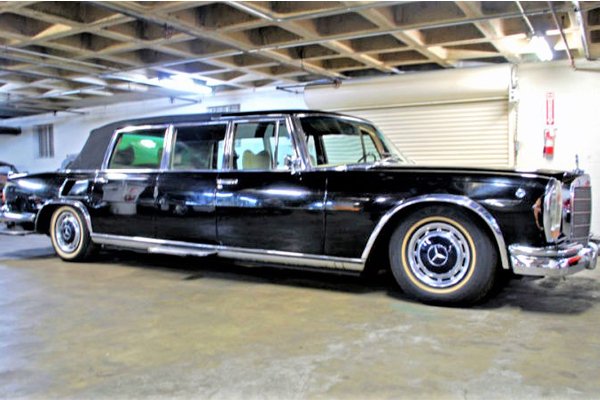 The Mercedes-Benz 600 Landaulet is an imposing car.
This model was built from 1963 through 1981 in small numbers. It was one of the finest and most advanced sedans of their time.
It was mostly owned by powerful people. Well, mostly people who believe they own their countries.
Though it is not exactly tall,  the 600  is very large. It has an aura about it that makes you feel it can only be owned by intimidating figures like Ferdinand Marcos (he had four, actually), Pol Pot, Fidel Castro, Coco Chanel, etc.
Each was fitted with different equipment for different requirements imposed by the leader.
This particular one is massive, especially in long-wheelbase form. It is nearly 21 feet of Mercedes. It weighs about 4 tons. It is designed to be a state landaulet. It features a solid roof over the front seats and a folding canvas roof on the back half of the car.
It is a limo you can stand up and wave to commoners in.
Only 59 landaulets were manufactured.
This particular Mercedes-Benz 600 Landaulet was owned by Saddam Hussein.
The car was stolen and driven by an Iraqi to Jordan as the regime was falling sometime in 2003.
A Jordanian car collector who also lives in the U.S. pointed museum staff to the car's location at the Mercedes-Benz distributor in Jordan.
The car is currently exhibited at the Petersen Automotive Museum, Los Angeles, USA.